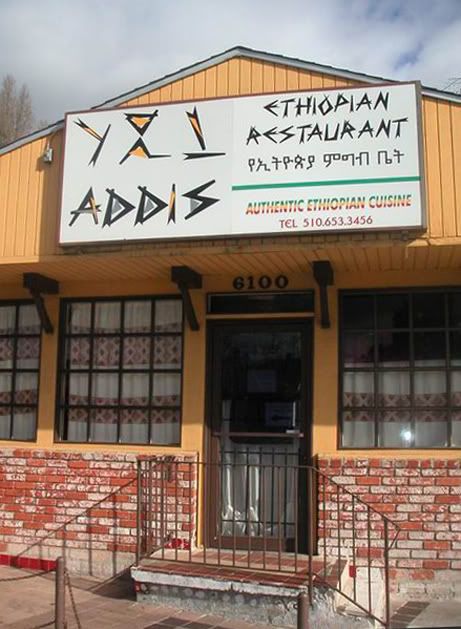 Doesn't look like much from outside, but Addis is the best Ethiopian food I've tasted
Twice now, Marc and I have gone with my aunt to savor the best Ethiopian food I've ever had. Marc and I were both exposed to the delights of Ethiopian cuisine as teenagers (before we met), and have loved it ever since. During our L.A. years, we frequented a tasty, inexpensive place called Nyala in the Ethiopian district on Fairfax. Since we've been in the Bay Area though, we've fallen in love with Addis on Telegraph.
Ethiopians use some of the same fragrant spices as in Indian food, but in different combinations and proportions. The rich complexities of flavors are truly unique and delicious. It is common for Ethiopian restaurants to offer many sumptuous vegetarian dishes since most of the country is Muslim or Orthodox Christians who observe close to 200 fasting days a year. Marc and I always order vegetarian combination plates at Ethiopian restaurants, but Addis' is absolutely the best.
Many of the dishes are hearty wots (stews of split peas, lentils or veggies) with an aromatic blend of spices called berbere. I encourage you to bring a little spice into your life and make up a batch of berbere (at the end of this article) to use with lentils or potatoes, or whatever else appeals to you. We made a full batch of this berbere spice mix a couple years ago and stored it in the freezer, using it regularly. I especially like a tablespoon or two of it in a big pot of red lentils.
At Addis, the vegetarian combination includes Yemeser Wot, lentils cooked slowly in flavorful berbere sauce, and herbed oil. This one is our favorite. I've tried making this spicy dish at home and it never comes out right. Maybe I just need to take lessons from a fabulous Ethiopian chef. Two flavorful dishes in the combination, Ater Kik and Alicha Denich, are somewhat similar to each other with spices, onions, garlic, turmeric, and herbed oil. But with split peas, and potatoes and carrots, respectively. It's real comfort food. If it wasn't an hour away, I'd be tempted to go every week.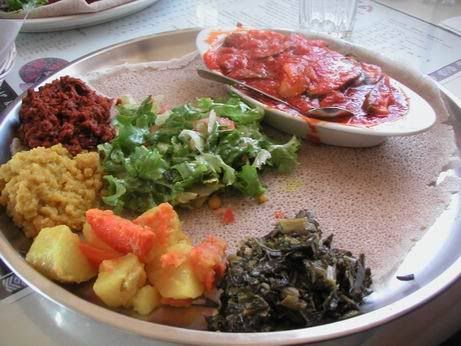 Starting at the bottom, clockwise, Gomen, Alicha Denich, Ater Kik, Yemeser Wot, and Zucchini Wot with green salad in the middle
The last dish is Gomen, chopped collared greens cooked in a mild sauce of onions, garlic, green pepper, and herbed oil. This one always tends to be my least favorite (I think I'm not a huge collards fan), but is still delicious and a lighter counterpart to the spicy dishes. Not knowing much about food history of the south, the ubiquitous presence of collards in Ethiopian cuisine suggests to me that southern collards are steeped in African heritage. A very tasty dish that I haven't seen at other Ethiopian restaurants is Addis' Zucchini Wot. Since the zucchini is stewed in tomatoes onions and garlic, you get a little of an Italian feel. But the delicious combination of herbs and very hot green peppers remind you, this isn't Italy.
Ethiopian food is served communally on a large platter of injera. Injera is a spongy flat bread made of sour teff flour. Teff, native to the Ethiopian Highlands is a tiny brown grain, rich in protein and fiber. Often, restaurants here, will just make a sourdough mixture of wheat flour, but being a great authentic eatery, you can see the dark flecks of teff in Addis' injera. Like a lot of Northern African cuisines (as in the case of Moroccan couscous), it is customary to eat the dishes communally, using your fingers and the starch (injera) to pick up the food. It's more fun that way, and you can't help but get chummy with your dinner companions as you both reach for the same morsel of Yemeser Wot.
The texture of injera is so interesting. Just look at all the little holes created in the fermentation process that makes it so tangy.
A good friend of ours who grew up traveling all over the world, (his dad was a diplomat for the British government) said that of all the places he visited, Ethiopia was by far the most gorgeous. They have such a rich history and beautiful varied landforms. Check out the spectacular rock-hewn church, Bete Giyorgis. The giant cross is literally carved right down into the rock.
If you are ever in the East Bay, and have a hankering for some spectacular unique food, I strongly suggest Addis.
Addis
6100 Telegraph Ave.
Oakland Ca 94609
510.653.3456
Open 7 Days a Week 11:30 am – 10:00 pm
Berbere (Ethiopian Hot Pepper Seasoning)
courtesy of RecipeSource.com
1 tsp Ground ginger
1/2 tsp Ground cardamom
1/4 tsp Cinnamon
1/2 tsp Ground coriander
1/4 tsp Allspice
1/2 tsp Ground fenugreek seeds
1/2 tsp Grated nutmeg
1/4 tsp Ground cloves
1 1/4 cups Cayenne pepper
1/2 cup Paprika
1 tsp Fresh ground black pepper

This seasoning mix is best made with as many whole spices as possible, toasted, then ground in a spice grinder, mortar and pestle or (spice-dedicated) coffee grinder.
In a heavy saucepan, toast the first 8 spices over a low heat for 4 to 5 minutes and shake or stir to prevent burning.
Add the rest of the spices and continue toasting and stirring for another 10-15 more minutes. Again, being careful not to burn them. The original recipe called for 2 Tbs. salt, but I prefer to use salt separately for more control in the final dish. When you use this mix, sauté onions, ginger, garlic (whatever aromatics you like to use) in oil, and for the last minute or so of sautéing, add one or two Tbs. of berbere. Then, if you want to make the lentil dish I make often, add about 3 cups water and 1 cup red lentils, cook for 20 minutes or so, and you've got yourself a tasty Ethiopian inspired dish to serve with rice or thin it out some more and it's a soup. Yum!