Halloween and Thanksgiving are my favorite holidays. Halloween, for all the cute ghouls and goblins and fairies roaming the streets, looking for sweets, and creative expression through pumpkins. Thanksgiving, for…the obvious…connecting with loved ones over great food.
Later, I'll do some Thanksgiving recipes, but this post is just some pumpkin carving whimsical inspiration. My hubs, Marc, and I were taking care of my teen-aged sister in October last year, and thought it would be fun to invite a friend over for a little carving party. Now, for some background, I love the textural, sensual fun of scooping out the guts of the pumpkin, and the foodie in me loves to roast the pumpkin seeds. But, Marc, is really the artist in the family. My creativity comes through in a lot of ways, like my cooking, but he's much better at pumpkin carving than me.
So, for these pumpers, I prepped them, and did a little carving on Lakshmi, but they really are his execution. Above is Lakshmi (named after the Hindu goddess of wealth, fortune, love, beauty and fertility). I started cutting little circles around the pumpkin across the "forehead", and ended up with a larger one between the eyes.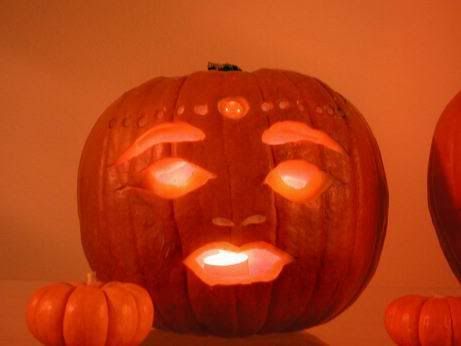 Marc finished carving her and put a marble in the center hole, like a third eye, so that it glowed when the candle inside was lit. Totally fun. With the third eye, the name Lakshmi just seemed to fit her.
Here are Chester on the left, and Chuck on the right.
They both have marbles in their eyes, so they glow too, when the candle is lit. Chester's teeth are pumpkin seeds. Chuck was…um…ill, so he's up-chucked his guts.
They were so much fun last year, I'm hoping we get the chance to make a few more this year. Kind of like cooking, or a Tibetan sand painting, they are sweet creative expression, to enjoy for a moment before their time is up. We are so fortunate here, that the local farmers are growing interesting varieties of winter squash in fun shapes and colors and sizes, so there is plenty of inspiration.