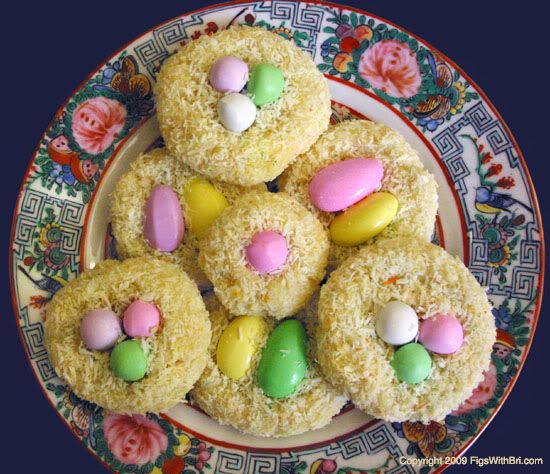 This is my entry for the Spring ~ APRIL 2009 Click! Photo Event. (Recipe adapted from "Almond Macaroon Nests" by Brenda [TYMEGJUS3] on www.allrecipes.com)
First found the recipe for these easy, fun-to-make, (eggless) butter cookies 7 years ago. Finally made them in 2004 – the main photo is from Easter of that year. If you're looking for a charming Easter cookie recipe, this might be just the one!
(Will add more photos, when I make this recipe again. Have other yummy cookies already in the house and way too many projects going….to do so right now.)
In 2002, I had never heard of food blogs…or ANY sort of blog. Did think it was very cool that people shared their recipes on-line along with a few photos of their culinary creations. How the blog world has exploded since then!
Here's what Brenda says to introduce her recipe: "This is a tradition at Easter in our family! A delicate butter cookie, decorated with colored coconut to look like a little nest and filled with chocolate covered almonds or peanuts. I like to color the coconut by placing it into a jar with the food coloring. Just close the lid and shake until colored. No messy hands!" RATING: 4.5 Stars
Image via Wikipedia
Now for my introductory comments: This is a 'sleeper' recipe. Hardly anyone who uses www.allrecipes.com has made these cookies. Glad I did, because they're SO EASY and FUN. Hope you'll give them a try, too!
I've put my ingredient [suggestions] in brackets / with options listed. Updating the recipe, I'd use as many organic ingredients as possible. Just noticed in our local gourmet grocery store this past week even food coloring is now organic and healthy….FINALLY we can have some colorful fun!
Also made some proportion changes, which are indicated in this post.
INGREDIENTS:
~ 2 cups [organic] all-purpose flour
~ 1 tablespoon baking powder
~ 1/4 teaspoon [sea] salt
~ 3/4 cup [organic salted] butter, softened
~ 1 (8 ounce, organic) package cream cheese
~ 1 cup white [organic blond] sugar
~ [1] teaspoon vanilla extract / OPT: 1/2-1 teaspoon almond extract
~ [1-1/2] cups [organic] flaked coconut
~ [3] drops red food coloring* / OPT: Use green food coloring
~ [4] drops yellow food coloring*
~ 1 cup chocolate coated peanuts / OPT: I used Jordan Almonds** & JellyBelly Candy covered Chocolates.** Chocolate Mints might be good, too.
COMMENTS:
* The coconut wasn't very colorful. I'd suggest using more food coloring….or change to green, which might be more obvious.
** The candy coatings on the Jordan almonds & chocolates cracked during baking, which doesn't affect the taste at all…and even lends itself to the idea that a little bird might be hatching. BUT if you're after visual 'perfection' in your presentation, it's an aesthetic issue.
DIRECTIONS
1. Preheat oven to 325 degrees F (165 degrees C). Grease cookie sheets.
2. Sift together the flour, baking powder and salt, set aside.
3. In a medium bowl, cream together the butter, cream cheese, and sugar until smooth. Stir in the vanilla.
4. Gradually beat in the dry ingredients.
5. Divide the coconut into three separate containers. Color one portion red, one yellow, and leave one plain. Toss the colored coconut together with the plain.
6. Roll cookie dough into walnut sized balls, roll the balls in the coconut mixture, then place them 2 inches apart onto the prepared cookie sheet. Press 1 candy into the center of each cookie.
7. Bake for 12 minutes in the preheated oven, then remove from the oven and press 2 more candies into the center of each cookie. [Sprinkle the nest edges with more coconut.]
8. Return to the oven to continue baking for another 4 to 5 minutes, until golden brown.
9. Cool cookies on the baking sheet for 5 minutes, before removing to a wire rack to cool completely.
YIELD: 3 dozen (36)
NOTE: Since I tend to make my cookies a bit large and you may, too, count on 30 as a likely quantity.
* * * * * * * *
An entertaining aside:
I'm always amazed at the things one stumbles across on the web. Did you know that Jordan almonds and ALL candies & sugared confections used as culinary decor are called dragées? I always thought dragées were those nifty baking decor items like silver balls, red cinnamon nuggets, chocolate jimmies, pastel-colored sprinkles, etc.
Here's what Wikipedia has to say: "A classic, popular version of dragée are whole almonds coated with a sugar shell in various colors. Called mulabbas in Arabic, confetti in Italian and Jordan almonds or sugared almonds in English, these confections have a long history, and are traditionally associated with weddings and special celebrations. Throwing or handing out these candies at such occasions (hence the name for the multi-colored paper confetti which usually now replaces them) dates back centuries, and is meant to ensure prosperity, fertility, happiness, and good luck.
The town of Verdun, France, had acquired a reputation for its dragées by the 13th century. Originally the dragée was a spiced lump of sugar eaten as a digestive after meals." Read more from Wikipedia
At the end of the Wikipedia article, came across this extremely interesting post on www.FXcuisine.com where the author, François-Xavier, visited a famous French confection factory and learned all about dragées and how they're made. It's worth a read!