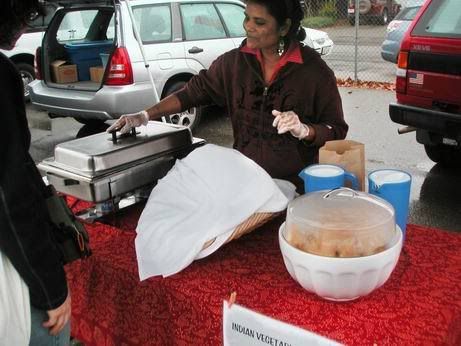 Here you can see Lata's sweet smile as she proudly shows us what she has to offer.
Marc and I have a new favorite thing. Indian "fast food" from Lata at the Santa Rosa farmers market. We noticed Lata a few weeks ago, and the last three markets Marc and I haven't been able to restrain ourselves. We gave into the siren song of warm homemade Indian food for brunch. She has a small stand by herself, with one table. She sells samosas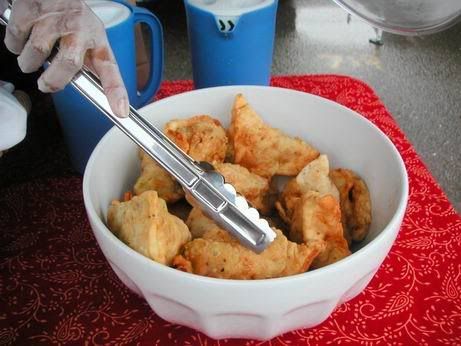 (fried dumplings filled with potatoes, peas, and traditional spices like curry leaves and fresh chili peppers), and spiced potato patties that she lavishes with her freshly made heavenly mint chutney and tamarind chutney.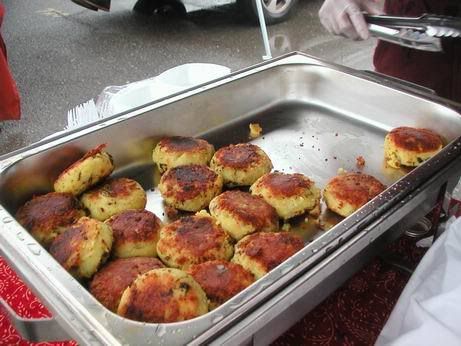 Chafing dish full of tasty potatoes patties.
She also sells naan, but I think of it more as paratha. Naan means "spade shaped" and usually refers to a simple leavened wheat bread similar to pita. It's usually made in big tandoori ovens. Paratha is also a wheat bread, but it's often filled with savory goodies and is usually round. Lata's paratha are filled with potatoes and spices and chilies.
Mmmm…doughy potatoey spicy goodness in a fan of naan (paratha)
All of the items she sells are "pure veg" which is the Indian term for vegetarian that includes dairy, but does not include eggs. My sense is, the only dairy she uses in these three dishes is ghee (clarified butter). Lata sells her samosas and naan (paratha) for $3 each, and her potato patties for $2 each. Her delicious fresh chutneys come with whatever you buy.
I love great Indian food, and buying from her just feels so good. She uses as many local ingredients as she can from the farmers market, and has such a sunny personality, you can just taste the love she puts into her food. So, if you frequent the Wednesday and/or Saturday farmers market at the Veterans Building in Santa Rosa, CA, look for her.