I returned yesterday from a gathering of five women in Asheville, North Carolina. It was a beautiful retreat sitting around the fire reinvisioning preconception, pregnancy and birth, and their important roles in our lives. I was so honored to be a part of it, and also happy to be home. I had never stepped foot in North Carolina before, and aside from connecting flights in Dallas, had never been to the South. So, I have some stories to share about the weekend, but must write them first. In the meantime, there is a post I wrote before I left. Bon Appetit!
One of my favorite things in life is to nourish people with delicious food. As I mentioned before, I recently started making yummy healthy meals for my personal chefing client. I bring a delivery to her once a week, with some prepared dishes, and some partially prepared food for her to pop in the oven, steam or assemble.
I enjoy mulling over what the menu will include for the next week, and taking the time to gather the ingredients. The autumnal menu the other week included a fresh spinach salad with chopped hard boiled eggs from a local farm, tangy balsamic garlic dressing, and fresh garlic croutons made from rosemary ciabatta bread. I stuffed multicolored bell peppers from one of my favorite local farms, with nutty red Wehani rice, walnuts, sharp cheddar cheese, celery, fresh basil and Romanesco zucchini.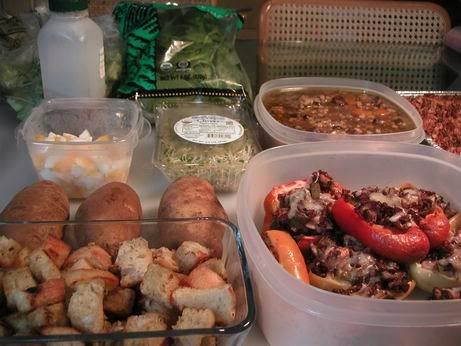 (sorry for the sub-par pics, but my client was hungry :))
The dish I was most proud of, was the hearty mushroom barley soup. It's from the Fields of Greens cookbook. The key is searing the mushrooms first, and using a good mushroom stock. I went heavy on the veggies, and only added about 1/4 cup of barley to the 4 or so cups of liquid.
I gave my mother in law a taste, and she loved it, even though she normally hates mushroom barley soup. The kicker was the chopped fresh sage I added at the end. So flavorful. I'll make it again and take more pics, so I can give you the recipe. What I love about personal chefing is helping people reconnect to their food and the land that nourishes them. Often in this society, we are so busy and disconnected from our food, that it becomes a hassle or a burden to feed ourselves.
Through food we can remember our relationship to each other and our environment. By cooking for others, I'm able to deepen my relationships as well as take some of the tedium and charge out of the work for them. So, when I deliver food to my client, some of it is totally prepared, but some things require just a little more participation so that food can be fun again. So when I trim broccoli or green beans for my client to steam, and include some whole russet potatoes for her to bake, it a little something that helps her reconnect.