Sweet picture of my mom in her mid twenties.
Today is a special day. It would be my mom's 58th birthday today. As I mentioned last month, she died of breast cancer when I was 14. She was a great mom, and we were best friends. I have a few foodie memories of her, but unfortunately, not a ton. I'd say my favorite was when I was about 9 years old, my mom and I went grocery shopping. She gave me an assignment. To pick out a box of cereal. There was a catch though…the cereal had to be under $3, and sugar couldn't be one of the first two ingredients (we didn't have rampant high fructose corn syrup infiltration then, so it was a little easier).
My mom left me with my mission in the cereal aisle, and did the rest of the grocery shopping. I can't tell you how long I paced the aisle, or how many cereal boxes I read, but it was a long time, and a lot of boxes. I was determined to make her proud. It was that day that I truly developed an understanding of just how much sugar was in cereal, AND just how expensive it was. Every time I thought I had a good cheap option, upon more inspection, there was too much sugar. When I got focused on the sugar and thought I had a winner, turned out it was over budget.
It was such a great task for me, a voracious reader and categorizer (every Halloween, I'd dump out my candy on the living room floor and put it all into neat little piles depending on what it was…chocolate, hard candy, chewy treats, and then assess which would be the two or three pieces I'd eat that night). At some point, I was triumphant and found a cereal that was something I wanted (because that was part of it too), within the financial constraints, and had good stuff in it. The funny thing is, I was so into the process, I don't actually remember what I chose, or whether I ended up liking it. I was just happy to have the responsibility bestowed on me, and show my mom I could do it.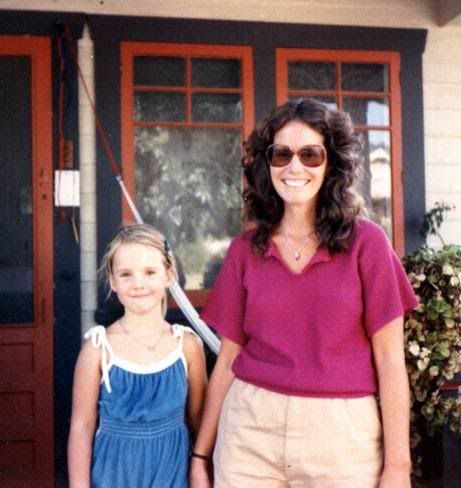 Five year old me, with my mom on our porch in sunny Santa Barbara, CA (gotta love those '80s fashions).
So, not only is today HER birthday, but yesterday was mine. She used to tell me that when she was pregnant with me, the doctor told her I would be born around Christmas. She said nope, she'll be born around my birthday. Lo and behold, a little over an hour before her birthday officially started, I was born. After years of her having to share her birthday with all the Christmas hubbub, I got the same fate. Oh well, at least she and I shared it together. Yesterday I had a very sweet birthday, filled with family and friends, great food, and hours of truffle and fudge making. I'll have a post later about the chocolate festivities.