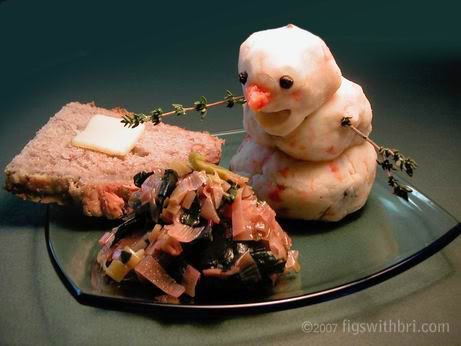 Mmm…I, the Abominable Mashed Carrot, Potato and Celeriac Snowman will eat these sauteed leeks and chard with my skinny thyme stem arms!
Eating locally and seasonally is really important to me. Sure it's easy in say, August, when tomatoes, summer squash, figs, peppers, eggplant, basil, peaches, grapes, strawberries, blackberries, plums, corn, green beans and cucumber abound. Once the weather gets colder, it can be a bit challenging to stick to that commitment. Luckily our micro-climate in Sonoma County continues to nurture many tasty fruits and veggies all the way through the darkest days of winter.
My latest vegetable find this season is celeriac. I'd never used it before, but Ingrid at Natural Living Cuisine did a post a few weeks ago all about selecting and preparing celeriac, and it piqued my interest. When I saw it at the farmers market, I picked some up, and made a potato, carrot, celeriac mash with fresh thyme. I used the same principles and techniques as my Roasted Garlic Mashed Potatoes with Carrot Flecks and Dill. But as usual, I tweaked the "recipe" and used what I had on hand. The potatoes, carrots and celeriac all steamed at about the same rate, (20-30 minutes). So, that simplifies things. With the fresh thyme, it was an incredibly satisfying dish, full of flavor.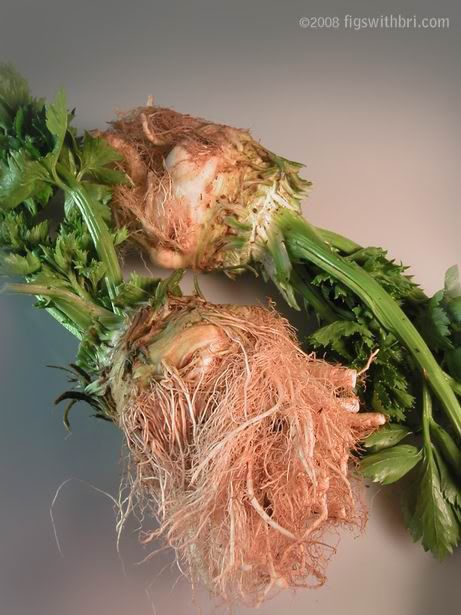 Two big celeriac in all their rooty leafy goodness, just asking to be the star of a soup.
If you've never cooked with celeriac (otherwise known as celery root) before, it's available throughout winter and has a tough skin that you need to cut off with a paring knife. It has a very mild celery and parsley flavor that goes well with a wide variety of veggies. We enjoyed it so much, I've been buying celeriac every time I see it at the farmers market. I've used it in three soups lately.
One was a gorgeous beet, carrot, leek and celeriac soup that was easy and took less than an hour to prepare. At juice bars, my favorite vegetable juice combination is carrot-beet-celery, so I guess this was a little take-off on that winning trio. Another soup, was a sort of minestrone with a couple tablespoons of tomato paste as the base and then cannellini beans (white beans), Israeli couscous (similar to a tiny Italian pasta called fregola), carrots, onions and of course…celeriac.
Humble celeriac minestrone warms you through and through.
I am enjoying the fact that celeriac is less starchy than potatoes, and offers a little change of pace in dishes where I might add potatoes to fill it out. Potatoes are so wonderful and have plenty of nutritional benefits (so long as you eat the skin and don't fry them), but it's good to get as much nutritional variety as possible.
The most recent celeriac based soup I made was a sort of twist on mushroom barley. We are being careful lately not to eat too much high starch/refined foods, so into the pot went (the best) mushroom broth by Pacific, a small handful of dried wild mushrooms, about 1/3 cup of pearled barley, some carrot, garbanzo beans (for a little protein) and…ta da! Celeriac! It took less than an hour, from prep to my belly, and was very hearty flavorful and nicely finished with some fresh chopped oregano and parsley.
Especially in California, it's quite easy to get at least some of our food from local farms, but I know people all over the country are deciding it's an important factor in what they put on the table. It can be a priority in our lives without being a burden of yet another thing to add to the list of "things we know are good for us but don't do often enough" (flossing, exercising, taking a moment to chat with the neighbors, etc).