A couple weeks ago I saw this recipe on the PBS show "America's Test Kitchen". I enjoy coleslaw, but sometimes with all the goopy mayo, it's just too heavy, and can barely be called a salad. The reliance on buttermilk for this creamy, tangy dressing really lightens things up, and the cilantro and shallots make it a party. My mother-in-law was skeptical, since she's not a big fan of coleslaw. She, too was won over though, with this recipe.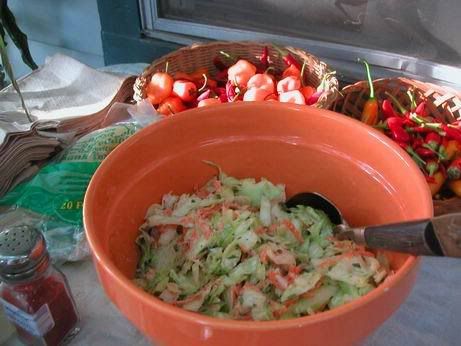 Also, the fact that you degorge the water from the cabbage with the salt first, means that what you put in the dressing, is what you get…not 3 extra tablespoons of water pooling at the bottom of the bowl. This was the other dish we brought to the harvest celebration at Crescent Moon Farm. With cabbages coming into season again, this is a tasty departure from green salads. As always, please use as many organic/local/sustainable ingredients as you can.
Buttermilk Coleslaw with Cilantro and Shallots

1 pound cabbage (about 1/2 medium head), red or green, shredded fine (6 cups)
salt
1 medium carrot, grated
1/2 cup buttermilk
2 tablespoons mayonnaise (can use regular or eggless)
2 tablespoons sour cream
1 small shallot , minced (about 2 tablespoons)
2 heaping tablespoons minced fresh cilantro leaves
juice and zest of one lemon (preferably a meyer lemon)
1/2 teaspoon granulated sugar
1 tsp. garlic powder
ground black pepper

Toss shredded cabbage and 1 teaspoon salt in colander or large mesh strainer set over medium bowl. Let stand until cabbage wilts, at least 1 hour or up to 4 hours. There will be several tablespoons or so of water in the bowl beneath the colander. Rinse cabbage under cold running water. Press, but do not squeeze, to drain; pat dry with paper towels. It will look to be about half the amount of cabbage as when you started.
see how the cabbage has lost about 1/2 it's height from the left picture to the right?
Place wilted cabbage and carrot in large bowl.
Stir buttermilk, mayonnaise, sour cream, shallot, cilantro, lemon juice and zest, sugar, and pepper together in small bowl. Pour dressing over cabbage and toss to combine tasting for salt since there may still be salt on the cabbage. Adjust accordingly. Refrigerate until chilled, about 30 minutes. This coleslaw is great party food since it's an updated version of a classic favorite.