me with my plate piled high, and a sweet, hungry farm dog
Over the last six months I've gotten to know David and Jill of Crescent Moon Farm, from my biweekly pilgrimage to our local farmers market. This weekend they threw a wonderful autumn harvest celebration. I just love events like this. Cute kids dancing around, fresh veggies clutched in their little hands, live acoustic music, spending the afternoon under a magnificent tree, meeting other foodies, and best of all…scrumptious homemade food contributed by all kinds of people.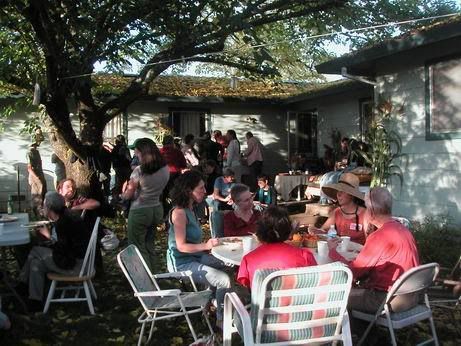 At least 50 showed up, and brought such good food, I was full after trying…maybe ten dishes. There were sun dried tomato nasturtium leaf rolls, farro wheat salad with celery root and olives, grilled veggies on polenta, okra and tomato gumbo, heirloom bean and winter squash stew, vibrant green salad with beautiful borage flowers, and the desserts…oh the desserts…persimmon muffins, berry pies, fresh gravenstein apple pie, and quince bars with quince sauce on top…just to name the few I was able to taste before I got too stuffed. Party goers relished the tasty seasonal dishes. Such a delight of the senses!
Marc and I made a roasted poblano pepper and potato quiche and a tangy buttermilk, cilantro and shallot coleslaw. I will post those creations soon. We also brought the last few brownies, (which were gobbled up quickly to rave reviews, I might add).
Marc's colorful plate with (clockwise from 1 o'clock) our coleslaw, quiche, bright green salad, farro salad, and bean and squash stew.
For the whimsical kid in all of us, David and Jill set up a gourd decorating station with dried gourds, paints, and carving tools.
We stayed until there was a chill in the air, and couldn't possibly fit another bite into our bellies. We had connected with new friends and reconnected with old ones. Community is such an integral part of life. So is celebration…and neither can happen without good food.