In our quest to make creamy Philadelphia-style (eggless) ice cream, we thought, why not luscious cheesecake?
Bruce Weinstein's The Ultimate Ice Cream Book, inspired us. His cheesecake ice cream called for lemon or orange zest, but I had organic limes on hand, so I used what I had.
The texture is silky, creamy and luscious without being heavy. Cream cheese has such a rich tangy kick, that it really brightened up the ice cream. The recipe called for regular cream cheese, but I used light whipped, and it was very easy to work with. Whisking it with the sugar, it came together easily.
I have a preference for ice creams that have a little surprise to nosh on. Something chewy, to lend an interesting texture, or throw a whole new flavor into the mix. We discovered tropical, (though unappetizingly named) Guava Paste Rolls at Trader Joe's and wondered what delightful ways we could use them.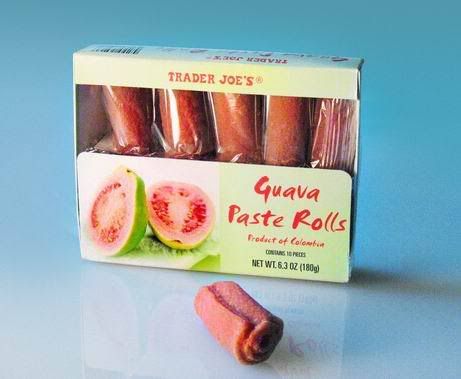 I know, paste isn't the first word that comes to mind when devising a delectable treat, but how could we go wrong with guava? Guava paste rolls are made from guava puree that has been sweetened and dried to preserve the essence of the tropics.
The chewy guava creates a pleasing counterpoint to the richness of cream cheese. Cheesecake ice cream flecked with lively lime zest and bits of sultry sweet guava. It disappeared so quickly, I was lucky to get a descent photo. The cream cheese actually has less fat than if I had just used cream. But it tastes richer than the laws of physics dictate. If I don't make it again soon, I fear mutiny in the house. It would be great for a party!
I recommend using as many organic ingredients as possible, 'cuz it does make a difference.
Decadent Guava Lime Cheesecake Ice Cream Recipe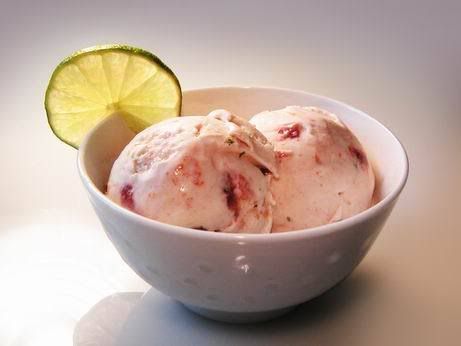 Makes a little less than a quart.
4 oz. of organic light whipped cream cheese (about a cup)
3/4 cups organic evaporated sugar cane juice (it's unbleached granulated sugar that imparts a blond color and still has the natural minerals and enzymes from the sugar cane. great stuff if you haven't tried it yet and tastes delicious)
1/2 tsp. vanilla
1 C. organic half and half
Zest of one or two organic limes depending on how small

1 1/2 C. organic cream
4 guava paste rolls diced into small bits
Whisk the cream cheese and sugar together until smooth, then whisk in vanilla. Set aside.
Slowly, bring the milk to a boil in a heavy medium saucepan (you just want to see small bubbles form around the sides of the pan).
Slowly beat the hot milk into the cheese mixture. Stir in the lime zest and cream. Cover and refrigerate until cold or overnight.
Freeze in 1 or 2 batches in your ice cream maker, according to the manufacturer's instructions adding the guava paste bits to the machine when the ice cream is semi frozen. Allow the machine to mix the guava bits in. When finished, the ice cream will be soft, but ready to eat. For firmer ice cream, transfer to a freezer-safe container and freeze at least two hours.
Just remember that there's no junk or stabilizers in this ice cream, so it does tend to melt faster than store bought. On a side note the cream cheese did have the added effect of creating a much smoother texture, similar to egg based custard ice creams, and didn't melt quite as quickly. Yum!