Thank you so much everyone…for your love, well wishes and prayers. I'm sure it contributes a lot to how well I'm feeling. I had a very healing trip to Guadalajara, Mexico. My dad and I stayed with a friend, Leticia, who took such amazing care of me.
My dad pulled major strings and jumped through many hoops to arrange for my travel and treatments there, but it was well worth it. My treatments were very effective and I am feeling more vitality and less pain everyday. Leticia is a very creative cook and easily prepared vegetarian dishes for me that were scrumptious and healthy.
The first morning she made a glass of freshly squeezed orange juice blended with ripe papaya for me, that was so delicious, my first thought was "This is going on the blog." Leticia eats meat, so when she asked if I wanted tofu (to acommodate my vegetarian diet) I told her I was perfectly happy with Mexican staples of black beans, cheese and eggs.
Tofu isn't exactly native Mexican food and I didn't want her to go even more out of her way to make me something she wouldn't normally eat and enjoy. She promptly went out and bought tofu seasoned with fresh herbs and made a very tasty meal with grilled eggplant and goat cheese, and brown rice spiced with poblano chile, cilantro and fresh cultured cheese. Seriously, she treated me like a queen, and for those five days my only assignment was to focus on healing.
I came home to a stack of loving cards, kind emails and sweet blog comments. Needing to conserve my energy, I've only been able to attend to a few calls and emails a day in response, so I'm a little behind. I would love to answer each comment individually, and I hope to at some point, but for now, know that I read yours and am deeply grateful.
Fellow food bloggers Bee and Jai from Jugalbandi sent me a beautifully wrapped care package when I got home from Mexico.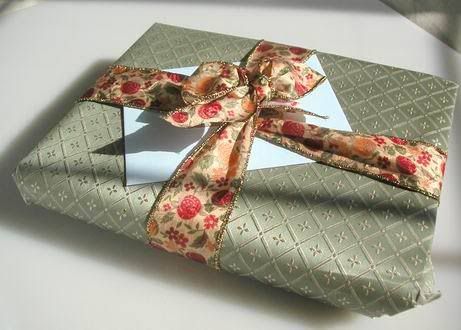 Just as I was about to tear into it, Marc asked if I wanted to take pictures. Smart guy. Always thinkin'. I restrained myself just long enough so you all could see what thoughtful goodies Bee and Jai sent.
Dagoba is some of the best chocolate out there, so that was a superb treat. We've had the Reader's Digest book on the kitchen table for a few days and everyone is getting a good laugh out of the stories. I'm still blown away by how amazing the bonds are that we bloggers form.
Bee and Jai have even offered to hold a fundraiser for me to help cover my treatment costs and are putting it together as we speak. They hold a monthly contest called Click and plan to incorporate the fundraiser into it. I'll keeep you posted as I know more. I really am speechless at the generosity and kindness pouring in from all directions. I feel so supported.
This week was chock full of doctor's appointments and tests. Cindy and Bill (Marc's incredibly supportive mom and step dad), Marc and I all met with a local Anthroposophic doctor at the beginning of the week and I started mistletoe therapy. Mistletoe has been used in Europe with great results for decades and does wonders to boost the immune system and get your body to take care of the cancer itself.
On Wednesday I had a biopsy of an enlarged lymph node in my neck. Biopsies aren't my idea of a good time, but it went smoothly and the hospital staff were very kind. One nurse, Nora held my hand and kept peeking under the sterile drape over my face to ask if I was okay. Such genuine kindness. My oncologist just called with the lab results and they are pretty sure it's what we all suspected…breast cancer. Each cancer is treated differently, so we had to know for sure.
I decided this was a week of research and development…get as much information from as many reliable sources as necessary and then develop a plan of action for my healing. I have always had a sense of being part of some greater plan. I don't have to know all the "hows" and "whys" but I've been praying pretty hard for clarity in what to do next, and the strength to act on that clarity. I think this week that clarity fell into place, and I'm taking each step as it is called for.
I actually feel quite a peace with what I need to do to bring my body back into a state of good health. Plus, I have lots of loving family, friends and health practitioners to help me on this journey.