Not the best picture of lasagne ever, but you work with what ya got, and we know it's good
All winter, we've been eating farmers market rainbow chard or beet greens at least once a week. My usual preparation method has been to saute them with leeks (also from a local grower), and while that is a very tasty and satisfying dish, I was in the mood for lasagna. Especially since I couldn't resist buying some moist and flavorful local fresh ricotta and HAD to do it justice.
I love to experiment with all kinds of ingredients, but sometimes I take things at face value, and it never occurs to me to do it differently. When I bought the ricotta and looked up some possibilities, I came across cannelloni recipes that called for chard. Of course! Why do I ALWAYS use spinach?! Especially since I don't even really like cooked spinach that much. It can tend to go all stringy and slimy.
Chard has none of that problem. When cooked, it's more tender than kale, yet holds it's integrity better than spinach. In fact, now that I've used chard in my lasagna, if I have a choice, I don't think I'll go back to cooked spinach. There. I said it. So, this is my new favorite way to make lasagna.
Plus, a ton of flavor goes into the veggies and ricotta, so you don't just have a tasteless wad of frozen spinach in the middle of the lasagna. The following recipe is really a guideline since you are free to mix and match, scale up or down, or use whatever proportion of ingredients you prefer, or have on hand.
As always I do urge you to use as many local/sustainable/seasonal ingredients as possible.
Four Cheese Vegetarian Lasagna with Chard and Cremini Mushrooms
Serves 6-8
olive oil
1 big bunch of chard (rainbow is my favorite), washed thoroughly, stemmed and chopped into thin strips
1 onion, chopped
8-12 oz. cremini mushrooms (washed and chopped)
4-6 cloves garlic, minced
8-12 oz. ricotta cheese
4 oz. Parmesan cheese
4-6 C. (about 2 large cans) tomato sauce (I make mine from canned Cento tomatoes since they are consistently spectacular simmered with some sauted onion and garlic and a little salt and pepper)
1-2 packages lasagna noodles, boiled according to packaged directions (I used DeBoles noodles made with semolina wheat flour and Jerusalem artichoke flour, which is so good, I couldn't tell the difference)
8-12 oz. cheese, shredded (I use a local pesto jack and a sharp cheddar)

I always put the water for the noodles on to boil and turn the oven to 375 degrees first thing, so they are ready when I need them. Cook noodles according to package and when they are done, sprinkle with a little oil so they don't stick to each other. For a large 9 x 13 baking dish, you'll need about 12 noodles to create three layers.

In the biggest pan you have, saute onion in a little olive oil until it's reduced, soft and beginning to brown. Then add in the chard. It will fill the pan to overflowing, but it will wilt soon and drastically reduce. Salt and pepper it a little while it's wilting in the pan. Sauté them for maybe 5 minutes until the chard has let go a lot of it's water and is soft, but don't overcook, since it will get baked in the lasagna, and no one wants brown chard. Scoop cooked chard and onions into a large mixing bowl and set aside.

In that same pan pour a little more olive oil, and sear 4-6 oz. (or about half) of your mushrooms at a time with a little salt. It's very important that you don't crowd the pan. If there are too many, the mushrooms will just steam. You want to put them in, stir them just to coat with oil, and then just walk away. Seriously, don't touch them for about five minutes.
They should reduce a lot, dry out and get a wonderful seared brown color on the bottom. When they are starting to stick to the pan a little and have let out their water, then you can stir them again. If there are little brown bits, you can deglaze the pan by adding a couple tablespoons of white wine and scraping up all those good bits.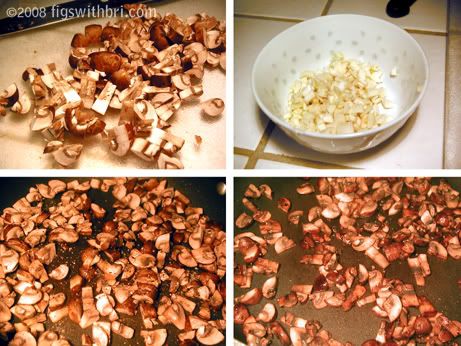 Top left: chopped cremini mushrooms. Top right: minced garlic. Bottom left: raw creminis in the pan with a little salt and olive oil (don't crowd them! don't touch them!). Bottom right: perfectly seared and dry, ready for the garlic.
Dump those yummy seared mushrooms into the bowl with the chard and onion. Repeat the process with the rest of the mushrooms, only at the very end when you stir them after they've seared, add just a little more oil and the minced garlic. Let the garlic saute for 30 seconds to a minute, so you get the great smell, but the garlic doesn't burn and get bitter. Add those mushrooms to the chard and first batch of mushrooms.

Now, add the ricotta and Parmesan to the veggies and mix it all in. It should be really flavorful, and something you'd eat by itself, so if it needs more salt and pepper, season it more.

I usually make my tomato sauce a day or so ahead so I don't have to do it all in one swell foop, but you do what you like, and now is the time to bring it out of the fridge or make some up. (my preference is to saute an onion, add the tomatoes, once I've pureed them with my stick blender, and with a little salt and pepper, let the sauce reduce for about 1/2 an hour. with Cento tomatoes, you don't need anything else to make them taste good.)
Pour about one cup or so of sauce on the bottom of your baking dish so the noodles are less likely to stick. Then, layer on your noodles. Take about 1/2 of the veggies/ricotta/Parmesan mixture and smooth that over the noodle layer. Sprinkle about 1/2 the shredded cheese on. Ladle 1/2 of the tomato sauce over the cheese. Do another layer of noodles, then the other half of the veggies. Now do a third layer of noodles, the other half of the sauce and finish with the shredded cheese.

Cover with foil and bake for about 35 minutes. Take foil off and bake another 10-15 minutes, until lasagne is bubbling and the cheese has browned. I know you'll want to dive right in (since the house smells amazing) but hold off for about 15 minutes after you take it out of the oven. It will set and be easier to cut and serve, as well as save your mouth a whole lot of pain. With tasty garlic bread and a fresh salad, you have nirvana on a plate, AND it's chock full of good, real food.