A dear friend of mine just turned 30. She had kind of a crummy birthday since her kids and husband were down for the count with colds. I wanted to do something fun to honor this major milestone, but had a hard time figuring out what that should be.
I had been wanting to make Clotilde Dusoulier's recipe for 'Very Chocolate Cookies,' that David Leibovitz made. This seemed like the right occasion. Then I remembered, a few weeks ago, my friend had requested an interesting version of the Guava Cheesecake Ice Cream I'd made. Her idea was to add crystallized ginger in place of the guava paste rolls. Marc, my husband, and I agreed, what better opportunity than this, to give her what she wants!
Plus, she had sent me home a couple weeks ago with some blueberry cake. Now, a conscientious friend returns a borrowed container, washed out and clean. But a foodie friend returns said container full of yummies. So, the tasty gifts came together and her idea for the Ginger Cheesecake Ice Cream came out perfectly.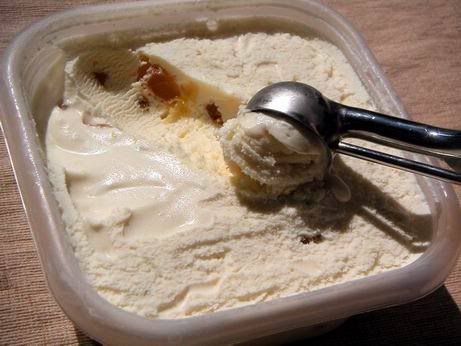 See, here's her container, filled to the rim with ice cream
The crystallized ginger adds little chewy bits and a wonderful hint of ginger, but not too strong at all. Sometimes ginger can be so overwhelming, you can't taste anything else. Not this time. The lime comes through, and the tanginess and texture of the cream cheese just sing. Also, what better time than autumn, to enjoy the warming benefits of ginger in a sweet treat? One day it's cold. The next, late summer hasn't totally decided to leave yet, and it's scorching hot! This dessert straddles that fence nicely.
Here is my Ginger Cheesecake Ice Cream recipe (based on my friend's ideas after tasting my Guava Cheesecake Ice Cream, based on Bruce Weinstein's recipe in "The Ultimate Ice Cream Book").
As always, as many ingredients as possible are organic.
4 oz. light whipped cream cheese
3/4 cups organic evaporated sugar cane juice (it's unbleached granulated sugar that imparts a blond color and still has the natural minerals and enzymes from the sugar cane. great stuff if you haven't tried it yet and tastes delicious)
1/2 tsp. (good quality) vanilla
1 C. half and half
zest of one lime
1 1/2 C. cream
1/3 to 1/2 C. crystallized ginger, cut into little bits
Whisk the cream cheese and sugar together until smooth, then whisk in vanilla. Set aside.
Slowly, bring the milk to a boil in a heavy medium saucepan (you just want to see small bubbles form around the sides of the pan).
Slowly beat the hot milk into the cheese mixture. Stir in the lime zest and cream. Cover and refrigerate until cold or overnight.
Freeze in 1 or 2 batches in your ice cream maker, according to the manufacturer's instructions adding the crystallized ginger bits to the machine when the ice cream is semi frozen. Allow the machine to mix the crystallized ginger in.
When finished, the ice cream will be soft, but ready to eat. For firmer ice cream, transfer to a freezer-safe container and freeze at least two hours.
Just remember that there's no junk or stabilizers in this ice cream, so it does tend to melt faster than store bought. On a side note, the cream cheese did have the added effect of creating a much smoother texture, similar to egg based custard ice creams, and didn't melt quite as quickly. Yum!