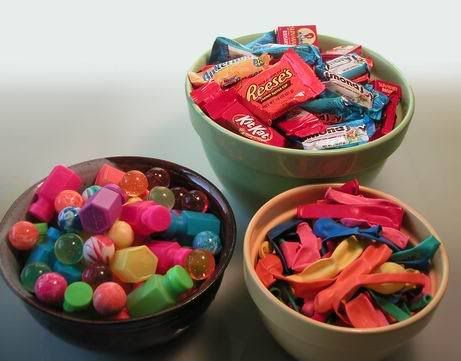 Yesterday was a good Halloween. We bought balloons, bubbles, bouncy balls and sweet treats for the neighborhood kids. Unfortunately we ran out at 8:15, but we must have had over a hundred kids. I'd never lived in a place that had that many trick or treaters before. So much fun!
Little baby duckies, fairies with glittery wings that lit up, and two little boys dressed up as high school cheerleaders. It's so fun to see how some kids mindlessly grab all they can get and practically run off the porch, and others heartily say thank you after being delighted that they get a balloon AND a sweet.
I may be a tree hugging, dirt worshipper, but on Halloween, kids want the flashy, colorful candy, so that's what we gave them. We did throw in boxes of raisins, which spurred one mom to tell her kid, "they're good for you, they help with your bowel movements". Um…sure, that'll make them more appetizing. Also, there were two separate older siblings that tried to steer the little ones towards the raisins, after picking out the chocolate for themselves. Human nature is so funny.
We had a delightful outing at Spring Hill Farm's Peter Pumpkin Patch a couple weeks ago. They had such an amazing variety of pumpkins and gourds, it was almost overwhelming. We picked out a gourd, I think called Speckled Swan, and a baby pumpkin. Yesterday at the farmers market, Crescent Moon Farm had some fun ornamental corn, so Marc picked out a baby ear.
We got a bit of a late start last night with carving, but the pumpkins were out there by the time kids started arriving. You know, most of the year, vegetables are quite innocent, but at Halloween they get to show off their dark side. The candy may get all the glory, but what's Halloween without the pumpkins?
Marc removed the husk from the corn and attached it to the end of the gourd with a toothpick for the rattler's rattle. Since we had a papaya in the fridge, I suggested using the seeds for eyes (I had to contribute somehow).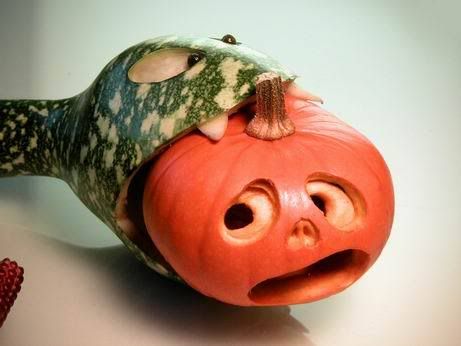 We put a candle in the little pumpkin, but it didn't stay lit for too long. Marc had cut a hole in the back of the little guy to allow for more oxygen to the candle, and to make the snake's eyes glow.
I love what Marc did with the look on the little pumpkin's face. He loves to tell a story visually.
With Calvin and Hobbes' horror show of snowmen as inspiration, we contemplated carving pumpkin parents, aghast at their baby pumpkin being devoured by the snake. We decided it went over the line into gruesome.