The wood stove with a cast iron bowl on top to help humidify the room.
A few years back, Marc's mom and step dad decided to buy a used wood stove that sits just outside the fireplace. It's heat is far more efficient than the fireplace. Their winter electricity bill went way down since they didn't have to rely on the dry forced hot air of central heating. We all love the wood stove. They use these compressed logs that are made purely of sawdust (no fillers or anything) and burn hot and clean.
When Marc and I have been on camping trips, we've put potatoes wrapped in foil in the coals and it's one of the tastiest ways to make them. The potatoes get a smoky flavor that just can't be reproduced in a modern day oven. So, a couple weeks ago, we thought, if the wood stove is already hot, why waste natural gas by making baked potatoes in the oven? We've baked potatoes in the wood stove a couple times now, with great success. The skins come out crisped and the flesh is so much more tender and flavorful than I can describe. I highly recommend you try it out if you use fire to heat your house (or you plan on going camping sometime).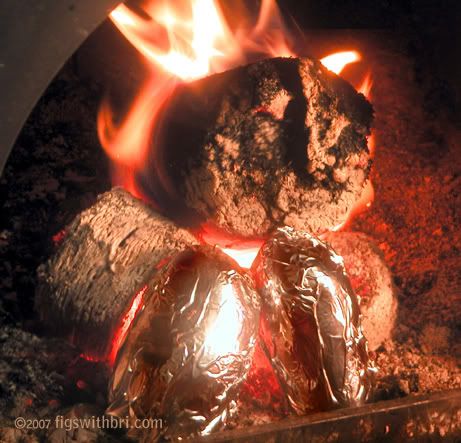 In the front are a couple foil wrapped hot potatoes just begging to be smothered in butter and sour cream.
Here are our tips for the best baked potatoes you'll ever taste:

1) Thoroughly wash the potatoes first, so you can eat the skin (and if you are going to eat the skin, another good reason to buy organic).
2) Lube them up with a little olive oil so the skin gets crispy when it bakes.
3) Poke a few holes in them so they don't explode (seriously, the water in the potato expands as it turns to steam and kablooey, if it doesn't have a way to escape).
4) Wrap them tightly and completely in foil.
5) Put them in your fireplace/campfire/wood stove in the heat, but not the flames, so they don't just burn right off the bat. It works best with a lot of hot coals.
6) Rotate them about every 20 minutes, so that all sides get hot, and if you have multiple potatoes, all of them get a chance to be close to the heat.
7) Give them a squeeze every time you rotate them, since they can go from underdone to burnt pretty quickly. This is a different kind of heat than the more predictable gas or electric oven.

Depending on the size of your potatoes, how hot your fire is, and whether or not the heat is contained, your potatoes should be ready in about an hour (give or take maybe 15 minutes). If you have some of those obscene football-sized potatoes, all bets are off, I don't know how long it will take.

While they are baking, get all your favorite fixin's together: caramelized onion, chives, smoked cheddar, seared mushrooms, sour cream, butter, salt, pepper…did I miss any of your favorites? Anyway, it's a great hearty dish, that's just perfect if you already have the fire going, to warm those tootsies.
(ed. note: follow-up post on hearth baked potatoes here)