About 10 minutes from us, is the cute bohemian town of Sebastopol. Sebastopol is friendly and very community minded. I kept noticing a little chocolate shop called La Dolce V, but hadn't gone in until this weekend. La Dolce V, I suppose, is a shortening of the term "la dolce vita" meaning the sweet life.
Turns out, they serve a full afternoon high tea Wednesday thru Saturday. I would love to try that out. In high school, my friends and I had high tea in San Francisco, at the St Francis Hotel, and Sheraton Palace Hotel a few times with my friend's gourmet mom. So, if we try out the afternoon tea service at La Dolce V, I'll write about that too.
In the meantime, we did try a few items when we stopped in. They feature an impressive case of chocolates that have wonderfully original ingredients. I was most attracted to three: Raspberry Rose, Banana Flambé, and Citron Oolong. I wanted to be able to take photos of the chocolates, and when we got home, there wasn't time for a photo shoot before we lost the light. So, for my audience, I suffered 24 hours of waiting, being called by the confections.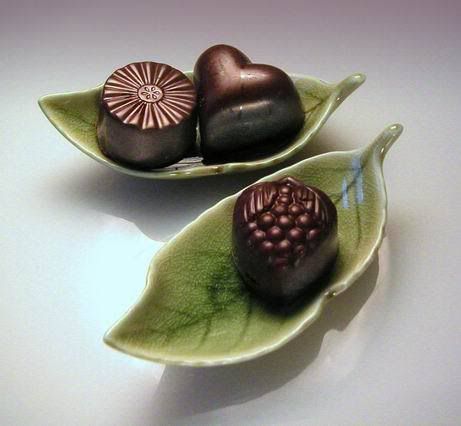 Boy, were they worth the wait. I was most drawn to the raspberry rose that had bittersweet ganache infused with rose petal and fresh raspberry puree. It was molded into the shape of a raspberry.
It's obvious they use very high quality chocolate, but the rose was almost too subtle to notice. It was a delicious flavor, and the raspberry came through a bit more strongly than the rose. If I wasn't expecting the rose, I would have enjoyed it more.
The banana flambe is the heart shape and was a concoction of ripe organic bananas, caramel and dark rum in ganache. That was a delicious flavor. The rum wasn't too strong, just a nice hint, and the bananas came through very clearly.
Last, but in our opinion, the best of the three, was the citron oolong in the fluted round shape. The description of the citron oolong was, bittersweet ganache infused with organic citrus oolong tea. Totally amazing citrusy, slightly herby flavor.
All the chocolates had beautiful shiny tempered chocolate on the outside and silky creamy, flavored ganache on the inside. I would definitely go back and try more of their chocolates. I love their originality in flavors, the use of premium chocolate and silky texture.
La Dolce V also bakes their own pastries and cookies, and serves Ciao Bella Gelato. They have a web site that isn't up and running yet, but here's how to find them:
La Dolce V
110 North Main St.
Sebastopol, CA 95472
707-829-2178