Since Marc keeps up with design sites, he's the one who originally found NotCot's food porn aggregator TasteSpotting. It's been up about a year, and I didn't fully appreciate how great it was until I started Figs with Bri. If you don't know about it already, food bloggers from around the world submit photos of delicious or exotic looking food, and if TasteSpotting accepts it, the photo goes on their site with the link to that blog post.
At first, I wasn't sure whether you submitted your own stuff, or what the criteria were. But last summer I took a picture of some gorgeous red velvet okra I had bought at my local farmers market and submitted it. The photo was accepted and I was ecstatic. For a while there I was batting a thousand (and getting a little cocky) with each of my submissions going up on the site. Well, they do have specific things they are looking for (I still don't quite understand what), and not everything of mine has been accepted. They just did a roundup though, of their top 100 most popular posts, and guess what?!?!
Four of mine are in there!
How cool is that?! Marc took and doctored two of them, and did an illustration for the fourth, so as with everything on this site, it really is a team effort, and we are pretty thrilled. Oh! And if I did the math right, their roundup is the top 100 out of 6840 posts. What a great way to start off the new year.
So, the four posts were:
Polenta Medallions with Tomato Sauce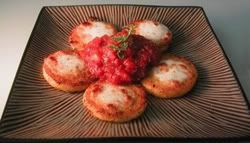 Egg Salad in Whole Wheat Pitas

Red Velvet Okra Summer Meal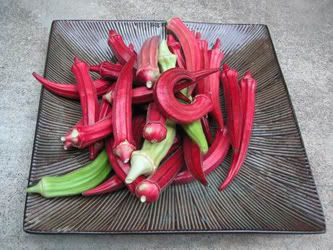 Quick and Delicious Vegetarian Pizza