I love grocery shopping. No seriously, I LOVE GROCERY SHOPPING. According to family lore, when I was a kid, Doe took me to the grocery store and said I could have whatever I wanted. I made a bee-line to the produce aisle. Did I mention how much I love grocery shopping? Marc is eternally amazed (and of course delighted) at the joy I derive from even window shopping for food.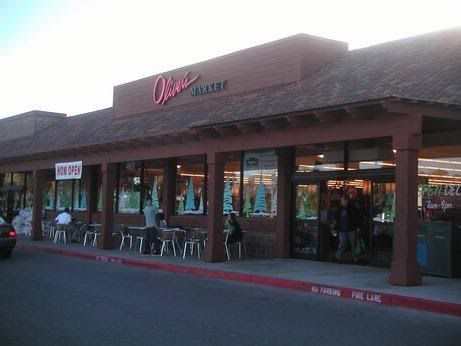 Look how gussied up they are with their Christmas trees painted on the windows.
Today our house was abuzz with excitement. For a gazillion years (okay, 10 months) we've been stalking the progress, practically hour by hour, of the opening of our very own neighborhood Oliver's Market. Literally within walking distance of our house. Oliver's is a Sonoma County treasure with two other stores, that we have seriously gone out of our way to go to for a sandwich, or a special item no one else sells.
Today…TODAY! folks, was the grand opening. Marc's step dad and I were so atwitter, we went twice…in less than four hours. Oliver's has a strong commitment to local food featuring lots of bread from local bakeries, local cheeses (in their extensive gourmet cheese section with whatever would be the cheese equivalent to sommelier), and signs over their produce department with the day's count of local foods and organic foods.
To heighten the festivities today, they were even giving away reusable tote bags. What a great idea! Infinitely better for the environment, AND a savvy marketing decision to have hundreds of people walking around town advertising your business.
They've obviously done their market research. Most people are right handed. Therefore, most people walk into buildings (grocery stores, movie theaters, etc.) from the right side when they have a choice. May also be a Western thing since we drive on the right as well. So as you walk into the right side of the store, you are greeted by probably the most profitable section, fresh brewed premium coffee. Go a little further and you enter the prepared foods. (Can't mark up an apple too much, but throw it in the oven with a little cinnamon, and you can easily get three or four dollars for that puppy.)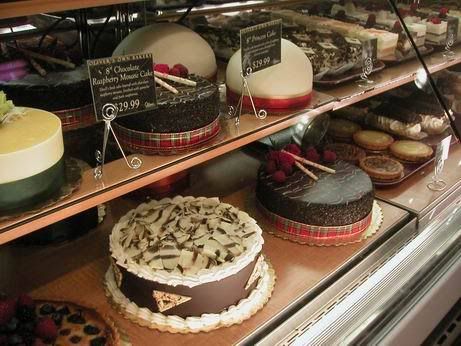 Top middle…the white domed cakes…Princess cakes…another dessert obsession inherited from Doe.
Their prepared foods section was sheer nirvana. Let's start with the pastries. Princess cakes (in all their marzipan goodness), ganache galore, fresh fruit tarts…I think they'd give a Parisian patisserie a run for their money. Then, they have huge pizza ovens with fresh baked rustic gourmet pizza. This ain't no concession stand at a mega mart. I didn't look too closely, but they have a taqueria as well. Hot fresh Mexican food! Yum. They even make fresh beautiful sushi. A bona fide sushi chef makes sushi right there. He had samples out and I asked if he had any vegetarian. He said no, but that he'd be happy to make some up right then for us to taste. I swear, I was giddy.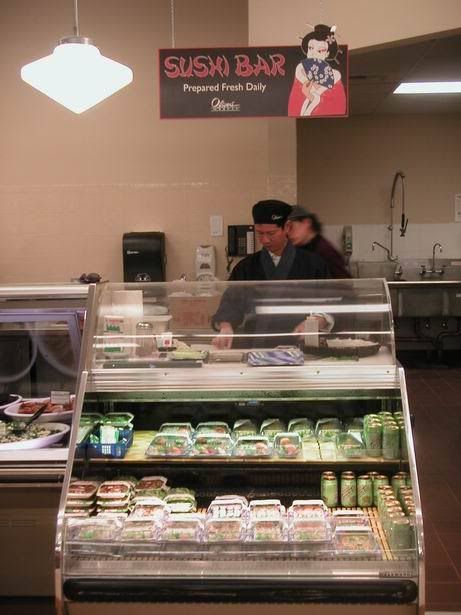 I was even more excited when I discovered the take-out containers at the salad bar. They come in a variety of shapes and sizes, and get this, they're made of 100% sugar cane fiber. The containers are compostable, microwavable, freezer safe, oil resistant, capable of handling boiling water, and wood fiber-free. Since sugar cane is a huge worldwide industry, by turning the fiber into these handy products, we decrease the air pollution normally created by burning it.
More evidence of Oliver's commitment to sustainability was the strip of bamboo flooring around the edges of the prepared foods section, bulk foods and cosmetics. Bamboo (a grass) is a great renewable resource since it reaches maturity in far less time than the trees usually used for flooring.
It's a little hard to tell in the photo, but the bamboo floor is beautiful, oh, and so are the rows of fresh soups, sandwiches, salsas, pizzas…you name it.
Oliver's is also a typical supermarket with booze and cigarettes, but I hope that by offering local beers and fresh gourmet food, they can serve a variety of people and maybe even educate the public about their choices. I was really impressed with how well they got everything together for the opening and how genuinely friendly each and every staff person was. They were understandably way over staffed for such a big event, but even people who had worked the last 10 days straight to get the store open in time were chipper, helpful and sincerely glad to work there. You really don't see that everyday.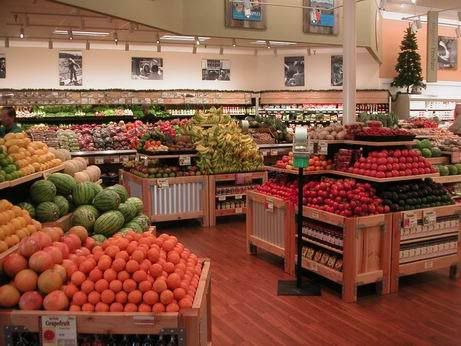 Colorful and rather extensive produce section.
I also noticed that their hours were 7am to 9pm. I like that. Who really needs to buy milk at five in the morning, huh? If you didn't think to satisfy your brownie fix or ice cream craving until midnight, you just need to wait until tomorrow. I like that the times allow for employees to lead closer to normal lives without being out until 2am. Just something I noticed.
So, after a full day of farmers marketing, shopping at Oliver's, shopping at Oliver's again, I am content. This weekend Marc and I are cooking for a retreat and I am just so pleased that Oliver's opened in time for me to shop for this event.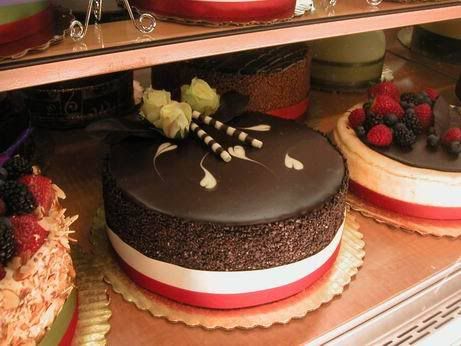 Had to get one more shot in of their gorgeous pastries. I loved the abstracted hearts on this one.
Did I mention how much I like grocery shopping?
Oliver's Market
461 Stony Point Rd. (right off Hwy 12)
Santa Rosa, CA 95401
707-284-3530