My aunt and uncle have a giant lemon verbena plant. It's so exuberant, it's taller than me. It practically qualifies as a tree! I had my eye on it for a few weeks, bringing home sprigs to make fresh tea.
Lemon verbena has a distinctly lemon fragrance, but mingled with a very herbal, green scent as well. I tend to think lemon verbena would be best going in a sweet or neutral direction. I don't know how well it would hold up in a savory dish. Would love any suggestions you might have for tasty savory lemon verbena dishes you've experienced.
The lemon verbena was just begging to be reincarnated as ice cream. Last month, Anita over at Dessert First posted this lemon verbena ice cream recipe, so it was the kick-in-the-butt I needed to make it. I didn't have an eggless recipe to go on (since half the household doesn't eat eggs), so I used a few things for inspiration including Bruce Weinstein's The Ultimate Ice Cream Book, my experience with using cream cheese in my Decadent Guava Lime Cheesecake Ice Cream, and a basil ice cream recipe.
The result was superb. The lemon verbena is fragrant, herbal, lemony, and the texture is spectacularly creamy and rich – eggs or no eggs. I was really happy with how it turned out. I didn't have very much cream cheese, but I loved what it did to the texture of the guava cheesecake ice cream, so I thought I'd give it a whirl. The amount in this recipe is just enough to improve the consistency, without overpowering the lemon verbena with cream cheese flavor. I used light whipped cream cheese and it was very easy to whisk with the sugar. I would totally make it again.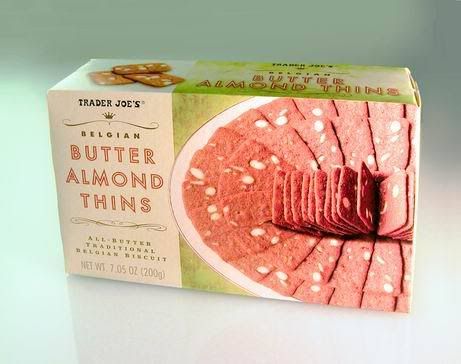 For a little whimsy, we decided to make ice cream sandwiches. Trader Joe's Butter Almond Thins are perfect for the job. Buttery and crisp, they make an excellent contrast to the ice cream without distracting you from the unique taste of the lemon verbena.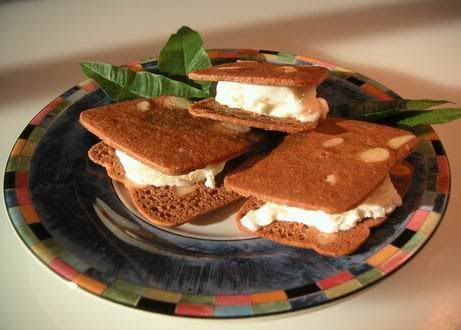 All ingredients are organic, because it's just how I operate.
Recipe for Lemon Verbena Ice Cream
1 C. half and half
1 C. loose lemon verbena leaves
2/3 C. sugar
2 ounces whipped cream cheese (1/4 of an 8 ounce package)
1 1/2 C. cream
Remember to put the bowl of your ice cream maker in the freezer for at least 12 to 24 hours so it's frozen solid.
Whisk together cream cheese and sugar in a large bowl, then set aside.
Put half and half in sauce pan over medium heat to bring it up to temperature slowly. When little bubbles appear around the edges of the pan, turn off the heat. While half and half is still hot, add in the lemon verbena leaves, cover and steep for 20 minutes.
Bring the heat up again, then strain out the lemon verbena leaves, carefully adding the hot half and half to the cream cheese and sugar mixture. Whisk well to dissolve sugar. When everything is incorporated well, whisk in the cream.
Put your soon-to-be-ice cream in an air tight container and chill in the fridge for at least four hours. When it is fridge-cold, pour it into the bowl of your ice cream maker and make it according to manufacturer's instructions. At that point it will be the consistency of soft serve and is ready to eat, but if you want firm ice cream, freeze it for a few hours before serving. Scoop a little onto Butter Almond Thins, and you've got yourself a sophisticated but kid-friendly treat.