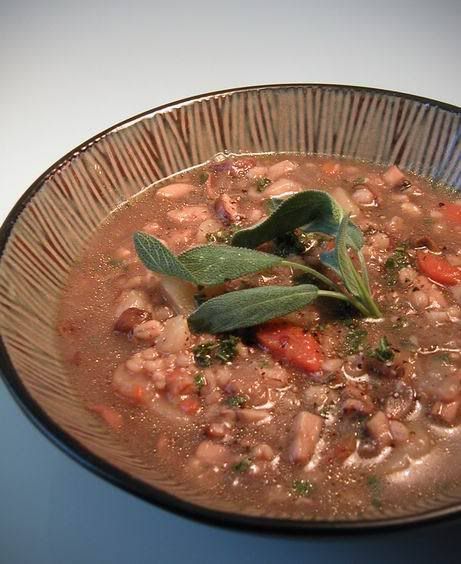 As I mentioned in my Autumn Delivery post, I make a mean mushroom barley soup. It's such a warming treat on a cold autumn day, and is one of Marc's favorite things. I should make it more often, since this soup is just so satisfying. There are a few key techniques and ingredients that are crucial and set it apart from other recipes.
One, is that the small brown cremini mushrooms (they are baby portabellos) are more flavorful than buttons, and need to be seared before being added to the soup. Searing them really brings out the intense mushroom flavor and gives them a little meaty texture. Secondly, deglazing the mushrooms with white wine brings some acid to the party and also brightens up the mushrooms. Thirdly, and perhaps most important, the stock. The absolute best pre-made mushroom broth/stock/bullion we've found is Pacific Organic Mushroom Broth. We use it for mushroom risotto too.
Pacific's mushroom broth has a rich mushroom flavor and isn't overly seasoned. Some broths/stocks can be way too salty. This one isn't. Anyway, you are welcome to make your own mushroom broth from scratch, but if you don't want to spend the time, Pacific mushroom broth is incredibly flavorful. This recipe is from the Fields of Greens cookbook and I've altered it a bit. As usual, please use as many organic/local/sustainable ingredients as you can.
Mushroom Barley Soup
6 ½ cups of Mushroom stock (Pacific Organic Mushroom stock is great)
1 tbsp unsalted butter
1 onion, diced
salt and pepper to taste
6 garlic cloves, finely chopped
½ cup dry white wine
1 small carrot, diced
1 large celery, diced
1 med. potato, diced
1/3 cup pearl barley (not quick cooking)
1 bay leaf
1 to 1½ lbs brown cremini mushrooms, diced
olive oil for sauteeing
1tbsp chopped fresh herbs: parsley, marjoram, thyme and sage (sage is my favorite, but you use what you have)
Heat butter in soup pot and add onion, a little salt and pepper. Sautee over medium heat until they just start to soften a little.
Add carrot and celery and sautee a couple more minutes to begin caramelization.
Add bay leaf, barley, potato and mushroom broth. Bring to a boil, cover and cook on medium heat for 30-40 minutes, until barley is tender.
While vegetables and barley cook, sear mushrooms in 2 separate batches in a skillet over high heat, using olive oil, dash of salt, and a few pinches pepper. Don't stir. I know you'll want to, but leave them be. Cook over high heat until golden, and reduced in size by about 1/2, stir once and continue to sear 1-2 minutes.
Add half of the garlic and stir again.
Add half of the white wine and stir to get all the nice bits dislodged from the pan (deglaze). Add first pan full of mushrooms to soup pot and repeat with second batch of mushrooms. Add the fresh herbs at the end. Season with salt and pepper to taste.