Did you know that the pawpaw is the largest edible fruit indigenous to North America?
We had spent hours walking around the main market area between the ferry building and the bay, then discovered another long row of produce vendors on the other side of the building. At the very end of our Ferry Plaza Farmers Market expedition, we came across a vendor with just a few pawpaw fruit left. Had heard of them, but never encountered them in real life.
I was utterly exhausted at this point, but so very excited at this new discovery! The literature on the table said they are a relative of cherimoya (easily in my top 3 favorite fruits). According to Wikipedia, the pawpaw hasn't been cultivated to the extent of apples and peaches because it doesn't ship or store well. It is a delicate, easily bruised fruit.
Pawpaw shrubs are relatively low maintenance, and since they have few pests, are easy to grow organically. Like cherimoya, each pawpaw fruit has a few large dark seeds. The one I tasted had a fragrant tropical smell, a little like cherimoya and papaya. The texture is incredibly creamy.
They are higher in protein than most fruits, and must have some of the good fats avocados have, because of the similar texture. I wouldn't say it was THE BEST fruit I've ever tasted, but I've had some mediocre cherimoyas too.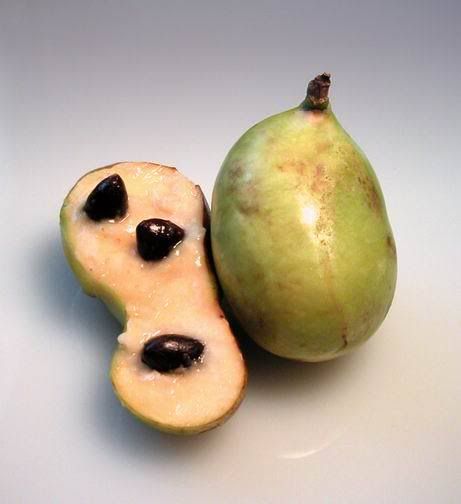 Reviewing your first experience of something is a bit dicey. On the one hand, it's totally new, so I can speak about it without any preconceived ideas of the "other pawpaw I ate last week". On the other hand, I may have eaten the only mediocre pawpaw in existence and it doesn't come close to representing the full flavor of it's brethren. So, for now, since September and October are pawpaw season, I suggest you seek them out and have your own experience of this taste of the tropics, native to our neck of the woods.