We have a sweet long-time friend who lives in Petaluma and introduced us to Della Fattoria's cafe and bakery a couple years ago. We just went that one time, but when we saw their bakery at the San Francisco Ferry Plaza farmers market, we decided to stop by and see what they had.
We remembered them being very friendly and generous as well as knowledgeable. They didn't fail us this time either. I'm pretty sure the kind gentleman who helped us is one of the owners. We spotted a Pluot Gateau Basque that was just too tempting to pass up.
Pluots are a hybrid, three quarters plum and one quarter apricot. They seem to be more common than plums these days, and Della Fattoria only uses local ones. Here is a picture of some beautiful Flavor Rich variety pluots from the Tory Farms stand.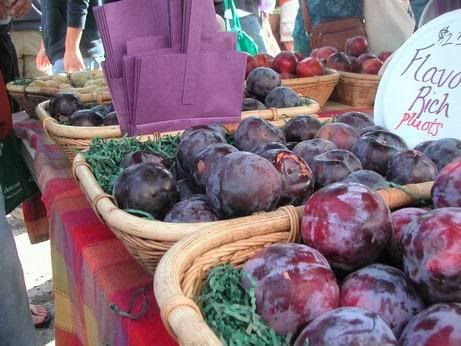 The gateau Basque was sublime. It was moist and buttery, with just the perfect sweetness. Marc and I shared it and I unknowingly ate most, if not all of the pluot swirl. Oops. I felt bad and tried to make up for it later. Marc isn't one to hold a grudge, though.
Funny, when some people eat something remarkably delicious, they hoard it and don't let anyone else have some. But for me, I genuinely take pleasure from sharing the delectable treat. It's hard to describe, but if I taste something amazing and no one is around to enjoy it with me, it's a less fulfilling experience for me.
Anyway, we will have to make it back to Della Fattoria's cafe and bakery soon for another gateau Basque and some of their amazing artisnal bread. Their web site is a little…um…rustic, but their food is gourmet. They even have photos of the Ice Queen of Domestic Goddesses herself, Martha Stewart visiting at some point. There is a family vibe about the place, so the next time you are in Petaluma definitely make it over to Della Fattoria. They have interesting hours for a bakery, open Tues. -Thurs. and Sat. 7am-3pm, Fri. 7am-9pm, Sun. 9am-3pm, and closed Mondays. It's a great haunt for after a movie on a Friday night.
141 Petaluma Blvd. North
707 763-0161