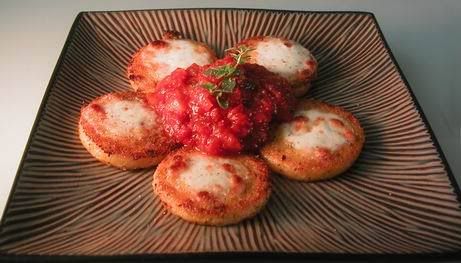 One of my new favorite dishes is vegetarian polenta topped with melty fresh mozzarella. The quick (and delicious way), is to buy a tube of pre made organic polenta (I get mine from Trader Joe's or a local health food store) and slice it into ½ inch rounds.
Then I pour a couple tablespoons of olive oil in a non-stick pan (important because it is prone to sticking) and fry them up for about 10 minutes per side. When they are nice and golden with a crisp layer, I put them on a large cookie sheet, top them with a little fresh mozzarella ball and broil them about 2 minutes. The cheese caramelizes as it melts. As long as you keep an eye on them so they don't burn, they ALWAYS come out absolutely delicious. I make a tomato sauce to serve on the side. In the summer, I make a fresh sauce with local organic heirloom tomatoes. Otherwise, I use canned Cento San Marzano tomatoes.
For a party, it would be great to fry up a bunch of slices, top them with the cheese, set them aside, and then put them under the broiler right as your guests arrive. As a main dish, one tube of polenta cuts into about 13 slices and feeds two people. Served with a salad and broiled zucchini or eggplant, it makes a stellar summer vegetarian meal, worthy of all members of the family and the most discerning guests.
"Recipe" Serves 4
2 tubes of polenta cut into 1/2 inch slices
2 Tbs. good olive oil for frying
1 eight oz. container of fresh mozzarella
A couple cups of your favorite tomato sauce
Bon Apetit!