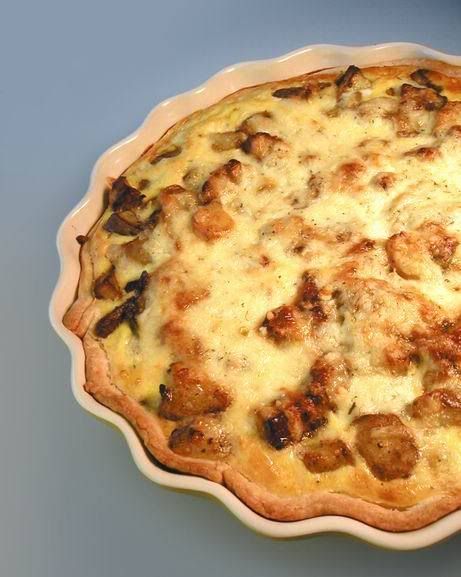 I racked my brain for about a week…what to bring to the harvest celebration at Crescent Moon Farm? I wanted it to be interesting and different, but also have wide appeal…feature veggies David and Jill grow, but also be a hearty dish. I knew I wanted to make a quiche, but a cohesive idea hadn't exactly presented itself. At one point, blue potatoes, zucchini, green olives, onions, goat cheese, and green beans were all in the running. Lots of good things, but no focus.
Then I remembered that a few weeks ago I made this soup with roasted poblano peppers and potatoes, inspired by the flavors of southern Mexico. It was so delicious, I thought maybe I could reinvent it again as a quiche, in a little Franco-Mexican fusion.
I was a little nervous about making something totally new and untested for an event, but this isn't totally foreign to me. I guess I was more nervous than I thought because, the quiche (and coleslaw we decided to make) lead to my first blog related anxiety dream.
The night before the party, I dreamt that I forgot to use a crust, so the quiche came out a frittata instead (disappointing, but not disastrous). Then, I dreamt that I forgot to take pictures of the different stages of the coleslaw, so I wouldn't be able to post it this time. So, in a sweat, I woke up without blog fodder, and realized it was just an anxiety dream. Crazy, huh? The things we get wound up about…
Anyway, in this reality, I did remember the crust, and the quiche turned out great. I used a big deep pie dish, so I was able to get 16 good slices out of it. It disappeared quickly, even in a crowd of lots of vegans. I'll definitely make it again.
A few words about the poblanos, though. Sometimes they are mislabeled pasilla peppers, so if they are about five inches long, three or four inches wide and dark green, you've got a poblano. As for heat, you can play a bit of pepper roulette with them. Sometimes they are very mild and just lend a smoky, chili flavor to a dish, other times they can be quite unexpectedly hot and overwhelm the meal. Check with your grower first, or taste them before you add them all to the dish. You want everyone to enjoy it, not run out of the room on fire.
(roast peppers right on the burner, turning occasionally until the skin blisters and blackens, then let them steam in a covered bowl until they are cool enough to pick the burnt skin off, and chop the flesh)
As for the crust, feel free to make your own, if you are good at that and have the time. I have yet to perfect pie crust, so I buy mine from Trader Joe's. Theirs is delicious and made with real food…flour, butter, etc. Not a hydrogenated oil to be found. It comes in a box of two, folded in quarters. Just defrost it, unfold it, smooth out any tears, and fit it into your pie dish. Easy!
So, here is an approximation of my roasted poblano pepper and potato quiche in a 10 1/2 inch wide, 2 inch deep pie dish. You will need to eye your pie dish to see what quantity will be appropriate, but these are the proportions I used. As usual, please incorporate as many local/sustainable/organic ingredients as you can.
1 pie crust
4 or so roasted, peeled, deseeded and chopped poblano peppers
olive oil for sautéing
2-3 lbs. of potatoes, diced (really depends on how big your pie plate is)
1 onion, diced
5 garlic cloves, minced
7 eggs, beaten in a separate bowl
1/2 C. half and half or cream
1 1/2 C. or so grated cheese (pepper jack would be nice for heat, regular jack is always good)
salt and pepper to taste
Preheat oven to 425 degrees
Roast and prepare the poblano peppers, then set aside.
Heat the oil in a large skillet and put the potatoes in, salting and peppering liberally. You may need to do the potatoes in two batches, depending on the size of your skillet and the quantity of potatoes. Find the balance of letting the potatoes soften and brown without burning them. Alternating with covering them, and stirring them helps them get to the right texture. When they are browning and close to tender enough to eat, add the diced onion, sauté for a few more minutes, then add garlic, stir and turn off the heat. Taste them for seasoning and doneness. If you would be thrilled to eat those as country potatoes, they are done and delicious. Add the prepared poblanos.
Salt and pepper the beaten eggs and beat in the cream.
Prepare the pie crust in the pie dish and sprinkle a little of the cheese on the bottom. The cheese acts as a nice barrier from the raw egg, so the crust doesn't get soggy before it bakes.
Spoon the potato/poblano/onion/garlic mixture into the crust and smooth it even.
Pour egg/half and half mixture over the potatoes. It will seep into the crevices. Cover with the rest of the grated cheese and bake approximately 20 minutes.
When the cheese has caramelized and the crust is golden, test it with a toothpick to make sure there is no raw egg in the middle. Let it cool for 10 to 15 minutes to let it set. As with all quiches, it's wonderful hot, room temperature and cold, so it's perfect for a party.