When I was at the Santa Rosa farmers market the other day, David from Crescent Moon Farm recommended a local pizzeria that prepares dishes with some of Crescent Moon's veggies. Pizza? Local sustainable ingredients? Sign me up!
We got a chance to go there last night and the best way to illustrate how fabulous the experience was, is to quote my husband, Marc, when he tasted the Mediterranean Piadine, "This is one of the best things I've ever put in my mouth!". Need I say more? I guess I will.
They are located in a rather non-descript shopping center, and unfortunately don't have much curb appeal. But, I would say that is my only real criticism. Plus, they've only been open about a month. So, hopefully they'll get outdoor seating and gussy up the place a bit to be more welcoming from the outside.
When we walked in, the bartender told us to sit where ever we liked. He said it with a hint of, "Welcome to my home, make yourself comfortable". Not dismissive, only warm and friendly. We sat near the open plan kitchen with their impressive wood fired brick ovens. It already felt very authentic.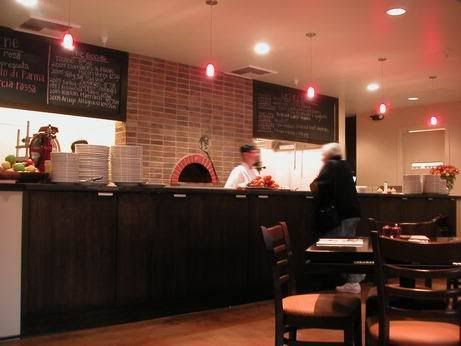 Sorry for the crummy pic. We're doing the best we can with our four year old $100 digital camera.
There were poster paintings on the walls of the local farms and vineyards they buy their ingredients from. Totally colorful and whimsical, the vintage-esque paintings were reminiscent of a homey European cafe. The interior of the restaurant was clean and stylish, yet fun and comfortable.
You can always tell a good business, when the staff seems like they are having fun doing their work…and Rosso's staff was cheerful and kind. The menu is one simple sophisticated page, but it's indicative of their attitude to food and use of ingredients. Flanking the logo at the top of the menu, it says (and I quote exactly), "some great italian saying" and "english translation". Humor and great food? Is it possible? Why yes…yes it is.
Their dishes are very moderately priced, falling between $7 and $14. We ordered a pizzetta (small pizza crust) topped with olive oil, oregano and garlic, with chick peas and sweet onions. Yes, I did say chick peas. Chick peas, (or garbanzos) are really big in some areas of western Europe.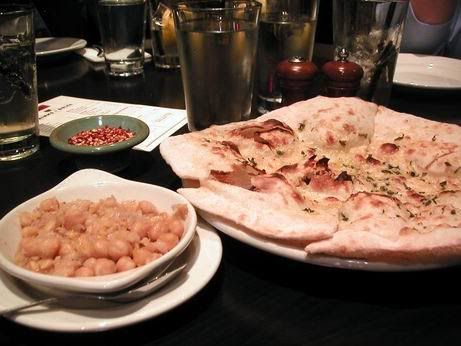 One of my favorite dishes I got from my aunt (who is of Spanish Basque heritage), is a very simple garbanzo, tomato and onion recipe. I'll write about that in another post. Back to Rosso's pizzetta. It was uncomplicated, garlicky and delicious. We all enjoyed it tremendously. It set the precedent for a theme that ran through the whole meal: that you can tell they take pride in using only high quality ingredients and allowing those ingredients to speak for themselves in a straightforward way.
You could so clearly taste each element of the dish, and yet, together they combined beautifully. Really like hearing each instrument in an exquisitely composed symphony. I guess the cliche word to use would by synergy, but it's so overused. Anyway, you get the picture.
From watching Mario Batali and his love of authentic Italian food, and the few glimpses I've gotten of Italy through friends and other restaurants in the US, Rosso has really hit the mark. I would easily take European friends (who know good Italian food) to Rosso, as I'm sure it would feel like a taste of home.
Another dish we tried, was a hot Caponata (grilled vegetable salad) with eggplant, red bell pepper, freshly toasted pine nuts, heirloom tomatoes, basil and a sharp vinaigrette.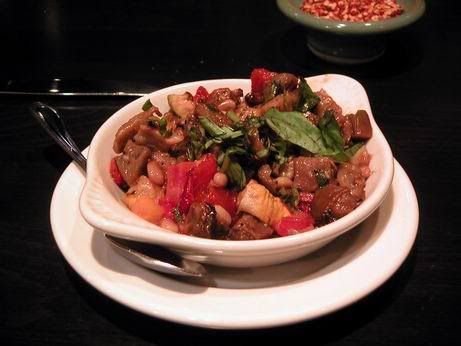 Such delicious veggies at their peak of ripeness, we all oohed and aahed.
We ordered two pizzas (or, rather, pizze would be the correct spelling). The Marherita can be a favorite of mine, but is so unAmericanly simple, I usually find it either bland or just plain bad. Marc was pushing for it, and it was the only one with a red base (tomato sauce and garlic) that didn't have meat, so we ordered it.
It was spectacular. So unadulterated, it was just those classic three ingredients (tomato sauce, housemade mozzarella, Crescent Moon basil and McEvoy Ranch extra virgin olive oil), done beautifully. I also love that they tell you where each of the ingredients come from.
Their fresh cheese practically dissolves into the tomato sauce and the bright basil reminds you that summer's not totally over yet. With the heavy emphasis on local seasonal ingredients, it does make me curious about what they'll do once all the fabulous summer veggies (that we often associate with Italy), like eggplant, tomatoes, zucchini and basil, are no longer available. Maybe they will use dark leafy greens and winter squash. I can't wait to go back and find out.
The other pizza we ordered was the Funghi with a white base (olive oil, shaved garlic and oregano), Carpati Farm shitake and cremini mushrooms, taleggio (a sweet Italian cheese), fontina, shaved artichokes, and Love Farms thyme.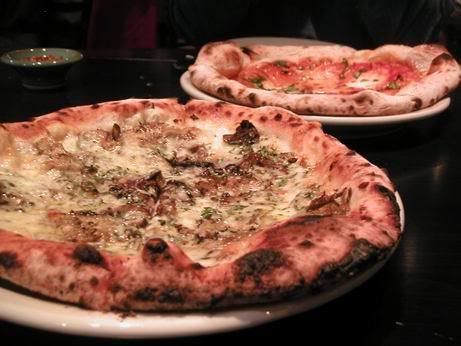 Heavenly cheesey, thymey, shroomy goodness – we loved this dish too. The characteristic thin Italian crust was a perfect balance of crispy, and chewy. Marc's mom pointed out, and I did agree, that since the crust was nicely salted, and probably so were the mushrooms, the cheeses just barely tipped it over the salted edge.
Since they use the same dough for each crust, maybe they could not salt the mushrooms and that would be just right. In general, though, all the dishes were perfectly seasoned and I don't think any of us added salt or pepper.
We thoroughly enjoyed our meal and our waiter, Jeremy, was kind, attentive and followed up with the cooks on questions we asked. At one point, we realized that one of the dishes we ordered hadn't arrived yet, but we'd been too focused on every tasty bite to notice.
All the dishes were so satisfying, we were discussing whether we were hungry enough for one more. It was the Mediterranean Piadine. This was the dish that Marc tasted and I quoted at the beginning of the post. As delicious as each of the earlier dishes were, this was our fave. We were thrilled we'd gone for one more dish.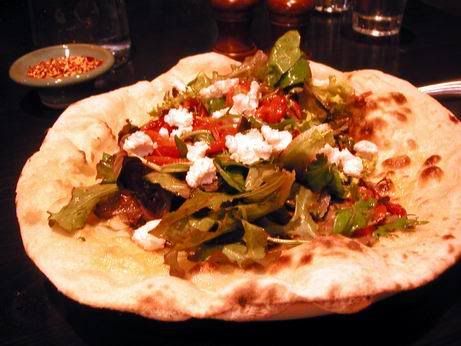 The picture really doesn't do it justice, but you can let your imagination run away with you.
It was a roasted garlic eggplant spread on flat bread, topped with a salad of mixed greens, roasted red pepper and goat cheese. Again, perfectly seasoned, and tossed with a red pepper vinaigrette. I could eat this every week. It wasn't as if I've never had these ingredients before, or even prepared like this, but it's what they've done with it (to quote an endearing film, The Castle).
The fun, humor, authenticity and expertise blend so perfectly with their obvious love of good food. The pizzetta, flat bread and pizza crust are all made from the same dough. But for each dish, the result is distinctly different due to how they handle or don't handle it before baking. Jeremy said that two of the cooks are pizza aficionados certified in dough-making in Naples.
I firmly believe it is our patriotic duty to support local businesses and local farms. Rosso hasn't been open long, but if you live in the area, or even if you don't live close by, and want a true taste of Italy, please act locally and spend your dollars and time with good people doing good work.
Oh, one more thing, since we aren't wine drinkers, it almost slipped my mind. The back of their menu is their wine list, and except one, all of the dozens of bottles they offer are organic, sustainable or biodynamic. That is so cool.
Rosso Pizzeria + Wine Bar
53 Montomery Dr.
Santa Rosa, CA 95404
707 544-3221