Several weeks ago, former pastry chef for Chez Panisse, David Lebovitz made these very chocolate cookies. They are Clotilde Dusoulier's recipe, from her book Chocolate and Zucchini: Daily Adventures in a Parisian Kitchen, and I just had to try my hand at them.
The recipe calls for a couple items that I don't normally keep around, so it took me a few weeks to finally get all the ingredients and moxie together. One of the things David suggests in his post (I don't know if it's in Clotilde's original recipe) is chocolate extract. It's not necessary, since you could use vanilla (good quality, of course), but I really wanted to use it. I didn't get it in time, so I just used some fragrant vanilla, but for another occasion, I am now armed with good chocolate extract.
I also want to try the recipe with coconut oil since it has such a tropical scent and is so good for you. Also, in that case, since there aren't any eggs, the cookies would be vegan. Not really a concern to me, but maybe to you or someone you know and want to bake for.
The last time I went to a local restaurant supply store, they had an assortment of ice cream scoop sizes. At least half a dozen. I bought a small one (you can see it in the Ginger Cheesecake Ice Cream post), to scoop cookies. I notoriously make cookies so big, they end up drifting into each other, creating one doughy land mass, instead of individual cookie (or is it cooky?) islands. So, the scoop helps reign in my enthusiasm a little (in a good way), so that I can produce perfectly shaped and sized cookies.
Also, I love cocoa nibs, but didn't want to spend $12 for a big bag of them, when the recipe only calls for 1/4 cup. My local community health food store has them in bulk, so I was able to just spend a few dollars and get enough for a couple recipes. I plan to add them to my favorite brownie recipe…to be written about soon.
Anyway, here is the recipe from Clotilde Dusoulier, by way of David Lebovitz. If you feel the call to make these, be sure to find yourself some good ingredients, because it will make a difference. As always, I strongly recommend you use as many organic ingredients as you can find (the farm workers, planet and your body thank you for it).
Triple (or Quadruple) Chocolate Cookies
½ cup (70 g) all-purpose flour
½ cup (55 g) whole-wheat flour ¼ cup (25 g) unsweetened Dutch-process cocoa powder (I used regular, not Dutch-process and they came out delicious)
½ teaspoon baking soda 5 ounces (140 g) bittersweet or semisweet chocolate, chopped in chip-sized chunks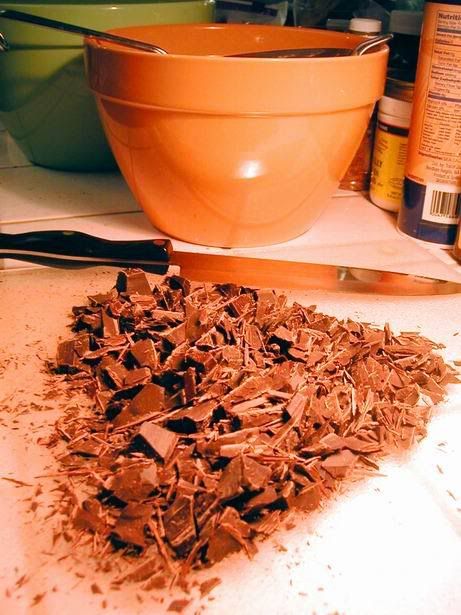 ¼ cup (30 g) cocoa nibs
½ cup, plus 1 tablespoon (125 g) unsalted butter, at room temperature (you could easily substitute coconut oil here)
½ cup (100 g) (packed) light brown sugar
¼ teaspoon sea salt
1 teaspoon vanilla and/or chocolate extract
(David's recipe suggests cinnamon salt or fleu de sel as optional garnish on the cookies, but as I mention in my Recchiuti Chocolates post, I'm not a fan of salty chocolate, but you do what you like)
Preheat the oven to 350F (180C) and line a baking sheet with parchment paper or silicone baking mat.
In a small bowl, sift both flours, cocoa powder and baking soda together.
In a clean, dry bowl set over a pan of simmering water (please don't violate the chocolate by melting it in the microwave), melt half of the chocolate (2½ oz, 70g), then let cool to room temperature. Mix the other half of the chocolate chunks in a bowl with the cocoa nibs.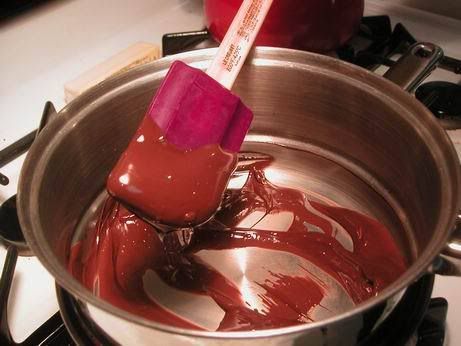 Beat the butter (or coconut oil) with a standing electric mixer, or by hand, just until smooth. Beat in the sugar, salt and vanilla and/or chocolate extract. By hand, stir in the melted chocolate, then the flour-cocoa mixture. Then finally the chocolate chunks and nibs.
Scoop the dough into rounded teaspoons (the mini ice cream scoop makes this a snap) and place evenly-spaced on the prepared baking sheet.
Sprinkle with cinnamon salt or fleur de sel, if desired (I didn't) then bake for 10-12 minutes or until the cookies take on a slightly dry sheen to the top. They may feel soft, but don't worry; they'll firm up just fine when cool.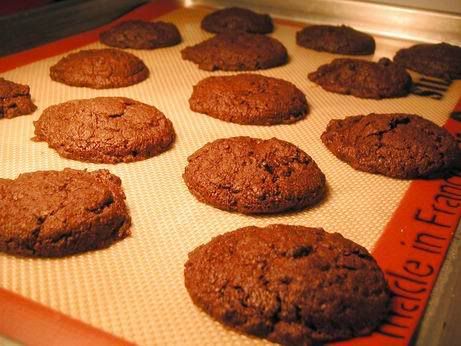 Along with the ginger cheesecake ice cream, I delivered about 2/3 of this batch to my friend (I had to save a few of them for us) for her belated 30th birthday. Surprisingly to me, her 2 1/2 year old son loved them. I thought they would be too strong a chocolate flavor, or not sweet enough for him, but he couldn't stop eating them. So, they are sophisticated, but accessible too. Enjoy!