Ginger is a pretty spirited character. He's someone that in most cases, I can only take in small doses. I find him overbearing and too assertive in many dishes. But with just the right touch, ginger can be the life of the party and happily remind you why you invited him in the first place.
Take strong ginger brew, for a moment. Not a wimpy ginger ale – flavorless, and sweet just to be sweet. I mean kick-you-in-the-butt, strong ginger, that is both delightful, and feels like it could cure 'whatever ails ya'. Yes, the ginger is strong, but it's not pretending to be anything other than it is. Sure, there are nuances of other things, but really, you're there for the ginger. I love ginger in stir-frys and soups, but the other flavors have to be strong enough to stand up to the boisterous nature of ginger. Ginger just tends to bulldoze over subtle flavors.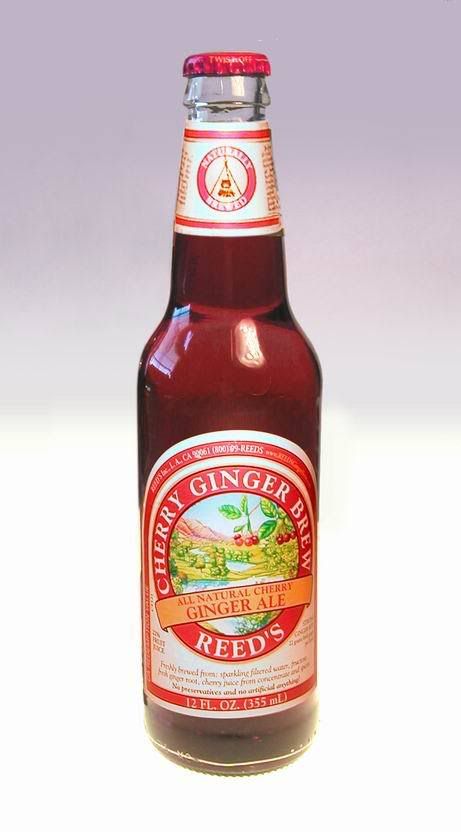 As I mentioned in an earlier post, Reed's sent me an awesome sampler box of 12 flavors of their natural sodas. What a treat! We've been savoring our way through the box and tried the Cherry Ginger Brew the other night. We both enjoyed it, but where was the cherry? Ginger's big personality totally overpowered the delicate cherry flavor. I started imagining some big ginger bully, not playing nicely with a cute little cherry, but Marc reminded me it wasn't ginger's fault. That's just his nature. So, Marc being the Designer/Illustrator Extraordinaire that he is, drew this.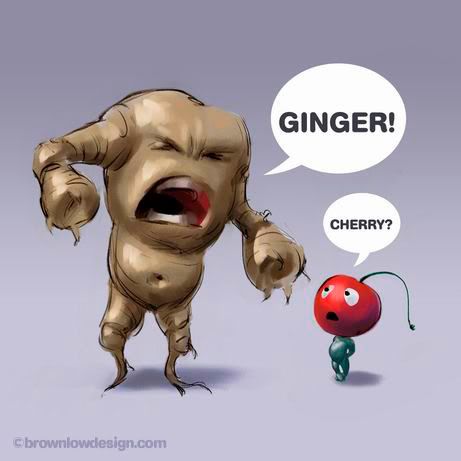 That got us talking about the marriage of Ginger and Lime. We first met the couple at an Indian restaurant, in the form of Ginger Lime-ade and they became an instant favorite. The juice of one lime in a glass of good strong ginger brew, compliment each other perfectly. The sassy tartness of lime isn't intimidated at all by ginger's brazenness. They don't have to compete. Their flavors harmonize in a tasty duet. Both flavors share the limelight… like…well, Fred and Ginger.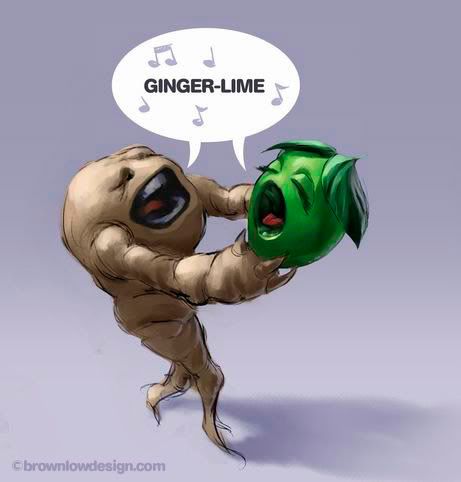 So if you have friends over for a dinner party or gathering, ginger lime-ade is a great drink to serve. It's something kids and adults alike, can enjoy.