The other day I came across these cute stuffed summer squash. Apparently in Europe, they call them courgettes. Who knew? I loved the kitchen humor, "Ouff, I'm stuffed".
So, I went to the farmers market and got some eight ball squash (zucchini) and came up with some ideas for stuffing.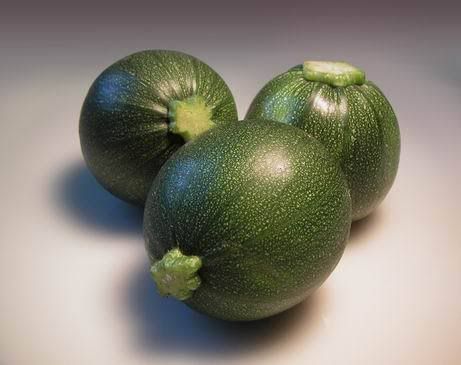 I had some onion and green beans left over from our Thai meal a couple nights before, so those looked like good candidates for the squash. In that meal, we had eaten rice and I wanted something a little different, so quinoa came to mind.
I bought some beautiful wrinkly red sweet Italian peppers called Jimmy Nardellos at Crescent Moon Farm a few days before. They were a perfect addition to the stuffing. Then I just hunted in the fridge for what else looked good. You are welcome to do the same and find inspiration in your kitchen and garden, or use my recipe.
Oh, and, the cheese is optional, so even though I love the melty caramelized cheese, this dish can easily be vegan. Beans (kidneys, garbanzos, or an heirloom variety) or nuts (almonds, cashews, pine nuts) would also make a great addition for protein. Although quinoa, the "mother grain" of the Incas, has the most protein of any grain.
I realized while I was making this, that you could take it in an Italian direction with fresh herbs, an Indian direction with curry powder, a Mexican direction with chiles, tomatoes and cilantro, a Greek direction with feta and oregano, or what ever you can dream up. Since you can easily scale the recipe up, it would be an easy dish with a lot of "wow" factor for a dinner party.
"Recipe" serves 4 (one squash per person)
4 softball sized eight ball or other round summer squash
¾ C. quinoa
1 ½ C. water for quinoa
1 med. onion diced
8 oz. fresh cremini mushrooms diced
1-2 sweet bell peppers diced, variety of your choice
½ C. bite sized pre-steamed green beans
olive oil for sauteing
2-3 Tbs. fresh chopped herbs: parsley, basil or oregano
¾ C. cheese (I used a sharp cheddar that melts well and offers a robust flavor to the stuffing)
Salt and pepper to taste
Preheat the oven to 350 degrees. Pour quinoa and water into saucepan, bring to boil, cover and turn down low. Cook for 15 minutes, or until water is absorbed.
While quinoa is cooking slice off the stems of the squash far enough down the vegetable that you can easily carve them out. You can simply or ornately cut off the tops, your choice. Then, like carving a pumpkin, scoop out the flesh leaving a ½ inch edge around the sides and bottom to maintain structural integrity during baking.
Roughly chop the insides of the squash for sauteing. Into a medium-hot skillet, pour a little olive oil, and saute the onions. When the onions are translucent, add mushrooms and let them reduce about 5 minutes before adding peppers and squash. Sautee those another 5-8 minutes until water evaporates and veggies are tender.
Turn off heat and add green beans and cooked quinoa. Mix some of the cheese in, and leave some aside. Stuff squash full, top with cheese and put their little hats back on them. Bake them in a glass or ceramic baking dish for about 30-35 minutes, until the squash are tender, but a little al dente, and the cheese is golden brown on top.
We had it with some steamed white corn on the side, and that was plenty of food. So, with a good salad, or just by themselves, these stuffed squash make a filling tasty meal.