This is a follow-up post to both Preserving Magic and Italian Ricotta Cheese Easter Cookies.
I was not totally pleased with my frosting glaze application the first time I made the cookie recipe (the cookies seen here on the blog).  Fact is I felt much clumsier decorating the "lemon wheel" cookies than my imagination had envisioned.
Soooo…when I made a second batch of cookies for Easter gifts last month (to fulfill family & friends' taste requests), I decided to try a different cookie frosting glazing technique and to use strips or chunks of candied orange rind for decor.
This time I slowly drizzled the glaze from a soup spoon in a spiral pattern, beginning at the center of the cookie and circling outward in concentric (sort of) continuous rings, letting the glaze drip over the cookie edges.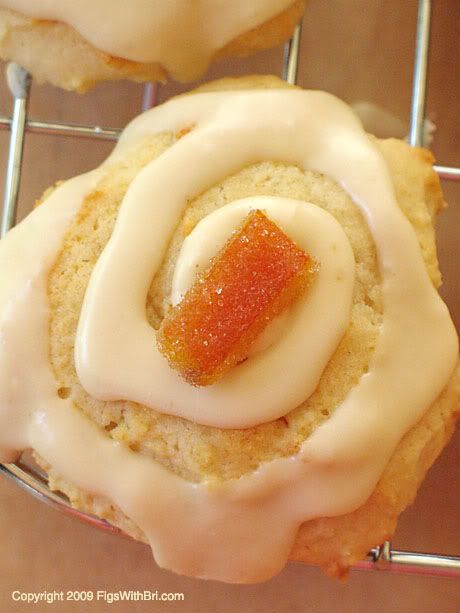 Liked the way these turned out much better! And everyone who received a plate of cookies really enjoyed them. Yay!
And a note about storing candied citrus:
~ Keep at room temperature in a lidded container.
~ Do NOT put it in the refrigerator or you'll end up with a goopy, syrupy MESS! Like I did…
Unfortunately.
Some basic facts: Refrigerators are moist. Sugar is naturally hygroscopic (attracts & holds moisture). Temperatures variations from chilled to room temp cause…
You guessed it = CONDENSATION.
In a day or two, the candied slices & peel were swimming in sugary syrup. Here's the mucky container & waxed paper I used to layer the candied citrus.
and the messy syrup I drained off.
Since I moved the "cleaned-up" candies & storage box to sitting on top of the refrigerator instead of in it, the candied citrus has kept just beautifully.
Author's aside: Marc strongly advised that I NOT post these photos as they are the opposite of "eye candy." However I prefer to warn other adventurous cooks, so they can avoid mistakes I've stumbled upon.