The Three Sisters of Native North America are corn, beans and squash. Together, they make a complete protein, and are perfect companion plants. According to Iroquois tradition, the three sisters can only thrive together.
As they grow, the corn stalk acts as a natural structure for the beans to climb, and the beans increase soil fertility by fixing nitrogen on their roots. The squash acts as living mulch, trapping moisture in the soil and monopolizing sunlight which discourages weeds.
Nature is so cool.
I don't remember where I first heard about the Three Sisters, but I like to include them in a lot of my Mexican cooking. It started with sauteing them with onions and topping quesadillas with the mixture (which is delicious, by the way).
But it evolved when I wanted to use "the girls" as enchilada filling. I was kind of pressed for time and didn't feel like spending all afternoon filling each tortilla. There's nothing wrong with that, and I'm big on slow food, but it feels more like something to do when you have friends over and can make it into a party.
Anyway, I thought, why not layer them with tortillas, like lasagne, and use an enchilada-type sauce, and melty gooey cheese? I mean…all that flavor…with half the work?! So, a Divine recipe was born that is great for a week night (takes about an hour), and good for a crowd as well. Here is a photo of the finished dish literally moments before we inhaled it (I mean…savored every bite slowly).
A few years ago, I made this Three Sisters Enchi-lasagna for about 25 people at one of my dad's events, and seriously, gained a life long friend, who still raves about the dish. I've decided that since I almost always put some kind of peppers in there, peppers should be the amicable half brother who plays well with his sisters.
On to the recipe. This is a great dish for summer because the corn, peppers, squash (and fresh beans if you can find them at the farmers market) are in full abundance. You can cut fresh corn off the cob, which is the tastiest, or you can use frozen corn. Trader Joe's sells very flavorful organic sweet frozen corn.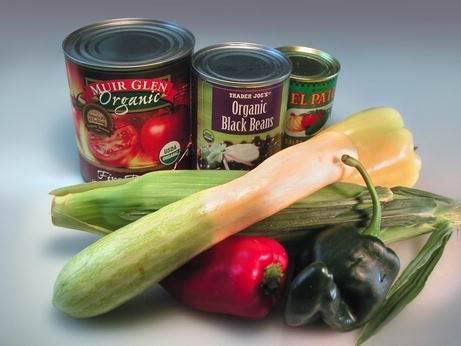 All the bell and hot peppers make great additions as well. This time, I used a red lipstick, a yellow Hungarian, and two poblanos. They were flavorful with quite a bit of depth, and very colorful. Plus, the more colors of veggies you use in a meal, the more vitamins and nutrients you get.
You could use green Anaheim or Jalapeno chilis, green bell peppers…whatever you like.
For the beans, my preference is black. You could use pinto, or whatever fresh heirloom shelling bean they have at the farmer's market that catches your eye. The great thing about this meal, is that you can go as slow-food-everything-fresh-out-of-the-field as you want, or simple quick-meal pantry and freezer raid as you have time for. Quite versatile that way.
As for the cheeses, I didn't have as much jack cheese as I normally would use, so I added some pepper jack and some sharp Dubliner cheddar. I know, cheddar from Ireland isn't very authentic, but neither is pepper jack, and ya gotta go with what you have. Frankly, the sharp cheddar added a nice bite that held up well with all the other flavors. Might be an accident I would repeat.
For the sauce, I used to use this great chipotle pepper sauce from Trader Joe's, but they don't make it anymore, so I used a small can of Pato sauce (which is quite spicy) and a large can of Muir Glen's Organic Fire Roasted Tomatoes. Great combo. I HIGHLY recommend you get yourself some of those fire roasted tomatoes. They have such a great full smoky flavor. They are perfect for this recipe, chili, soups…get creative.
I usually chop a whole bunch of cilantro for this recipe, but I didn't have any tonight, so I went out to the garden and picked a handful of oregano. Very fragrant and fresh. So, just remember that even though I'm giving you a recipe, I put my recipes in quotes because they are merely suggestions. You should experiment with what you like, what looks good at the market, and what happens to be in your kitchen.
"Recipe"
Serves about 8 depending on side dishes and appetite
oil for sauteing
1 onion, diced
1 medium summer squash, diced
1-2 bell peppers or assortment depending on size and heat, diced
3 cups of corn
2 cups of cooked beans (or one can)
1 bunch cilantro, chopped
Approx. 3-6 cups of enchilada or other type of Mexican style sauce depending on thickness of tortillas and how juicy you like it, salted to taste
Approx. 3 cups of grated cheese (a good Mexican cheese, jack, cheddar, pepper jack)
Approx. 12 tortillas (stale or toasted keeps the dish from falling apart when serving, but not crucial)
salt to taste
Quantity for about 9in. x 13in. rectangular baking dish, but of course you can size it up or down according to the number of people you need to feed.
Preheat oven to 375
In a large pan, sautee the onion until translucent. Add squash and peppers and sautee approx. five minutes. Add corn, beans and cilantro and turn off heat. If the corn is frozen, it will warm up in the pan and in the baking process, so don't worry about cooking it. Fresh corn won't need to be sauteed either, and the beans just need to be warmed. Salt to your liking.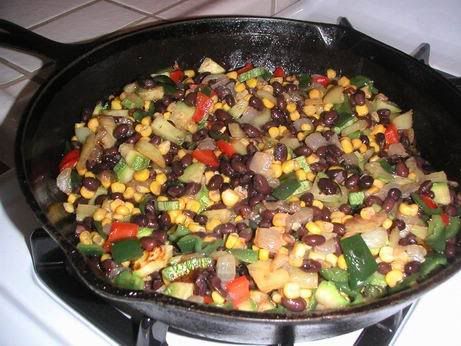 Spoon a thin layer of sauce into baking dish to minimize sticking. Layer whole and torn tortillas, to cover bottom of baking dish. Next, spoon half of the Three Sisters mixture evenly onto the tortillas. Pour half of the sauce over the veggies and spread it out evenly. Layer with half of the grated cheese.
Cover again with whole and torn tortillas, then the other half of the Three Sisters mix. At this point I just cover again with tortillas, then the other half of the sauce, then the rest of the cheese. That way the tortillas sandwich the ingredients in between, but the cheese ends up on top. It's the way I would layer a lasagne.
Pop it into the oven for about 30 minutes. Both the temperature and length of time are rather unimportant. You are just trying to heat everything up and melt the cheese. At 375 for 30 minutes, it will be bubbling, melty, and the cheese on top will become golden.
If you want to be able to cut perfect pieces out of it, wait to serve for about 10 minutes. If you don't care and are just hungry, serve right away (but it will be a bit sloppy). Great served with salad on the side or with Mexican Style Cucumbers.