Today was a dark rainy day, perfect for making soup. I went to the farmers market this morning, since it was Saturday, but I was one of only a few people there. Lazaro from The Patch in Sonoma, said he normally sells seven crates of green beans, but it was already 10:30 and he was only part way through the first two.
We desperately need the rain in this area, but it certainly makes it hard on the vendors when all their Saturday market customers stay in bed with a hot cup of tea. I love to talk with my favorite growers about their experience. It's such hard work to do what they do. I did it for six months and it was the most grueling work I've ever done.
Imagine moving all your belongings into a truck, out of the truck, setting up a room in your house, entertaining 100 guests, packing it all up again, loading up the truck, then unloading it back where it came from…without a pee break. It's like that…only you are dirty, and know that you have to do it again tomorrow because your loyal customers are looking for you Saturday and Sunday.
I caught up with David and Jill at Crescent Moon Farm too, and bought forest green poblano peppers and fingerling potatoes, among other things. When I got home I came up with a fun idea for a soupy twist on a typical Mexican dish.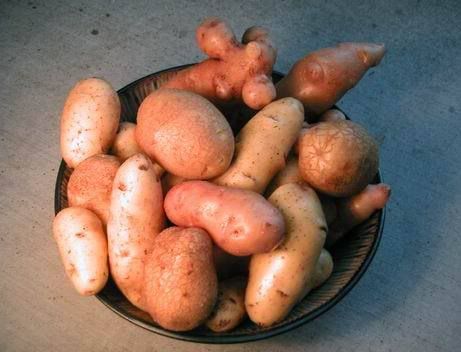 When I was in Oaxaca for a summer in high school, I fell in love with a simple and delicious breakfast of eggs with country fried potatoes, roasted poblano peppers and onions. So, I thought, without the eggs, this would make a tasty soup, especially with some sour cream or Mexican crema, and a little dry jack to gussy it up a little.
My husband, Marc suggested frying up tortilla strips as a sort of crouton garnish. Winner! My preference is to leave the skins on the potatoes for some texture, fiber and flavor, but you do what you prefer. I also love my handy-dandy stick blender when it comes to soups, because I don't have to transfer molten soup to the blender and back into the pot, but you use the tools you have. But don't say I didn't warn ya.
I like a creamy rustic soup. So, I blended it most of the way, and left some chunks. I don't like to drink my dinner. So, if there are some interesting bits to chew on, I feel like my mouth did a little work before the soup ended up in my belly. Again, the texture of your soup, is up to you.
It's best if as many ingredients as possible, came from local growers you know and love.
"Recipe" for Mexican Potato and Poblano Soup serves about 4

6-8 C. water (depending on how thirsty your potatoes are and how thick/thin you want your soup)
4-6 poblano peppers (ask to find out how spicy the ones you are buying are, since it varies from totally mild to scorching and you could have a firey inedible soup if your peppers are too hot)
1 medium onion, diced
1 celery stalk, diced
6 cloves garlic, minced
2 pounds or so of your favorite potatoes, diced (I used a variety of quirky creamy fingerlings)
juice of 1 lime
1/2 C. or so of grated dry jack
1/3 C. or so of sour cream or Mexican crema
4 tortillas cut into strips
a little oil for pan frying tortilla strips
First put a kettle on with the water so that it's already hot when you add it to the soup. It'll save ya 5-10 minutes.
Roast the poblanos directly on the burners until they are blistered and blackened. Put them in a bowl and cover with either the bag they came in or plastic wrap. Let them soften and cool, then coat your fingers with a little oil to protect from any heat in peppers. Remove the blackened skin, take out the stem and seeds, and dice. Set aside.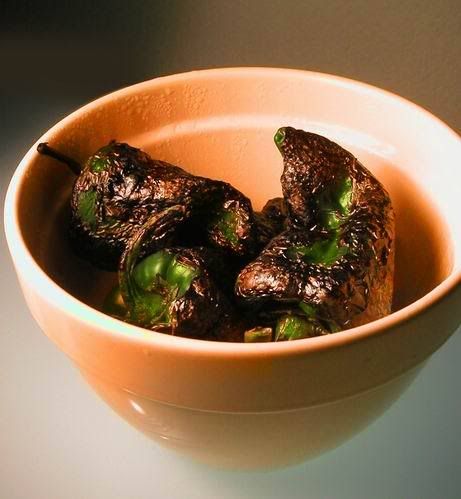 Sauté the onion and celery until they just begin to caramelize. Add the minced garlic and sauté for only about a minute so it doesn't burn. Add the water, potatoes, poblanos, salt and pepper, and bring to a boil. Then cook for at least 15 minutes…until the potatoes are soft.
Turn off the heat, blend to your liking, then add in the sour cream, dry jack, and lime juice. If the soup is too thick, add more water. Heat a couple tablespoons oil in a skillet and fry up the tortilla strips and season with a little salt. Serve the soup with the tortilla strips and some cilantro or green onion for garnish.