Mid-to-late summer is my absolute favorite time for fresh produce. Nature's bounty is almost overwhelming. How can I even keep up with preparing everything I want to buy at the farmers market? Some of my favorite veggies are Armenian Striped Cucumbers and Lemon Cucumbers.


Armenian striped cukes are incredibly sweet and fragrant. If you think cucumbers are bland, you haven't tasted these beauties. They are striped lengthwise with darker and lighter tender green skin and usually come in these funny curly-cue shapes. They are hard to transport since they refuse to conform to uniform shapes and sizes, but that's part of their charm. Striped Armenians have very small or no seeds at all, so they are a burpless variety (a plus for those concerned with proper dinner etiquette…neither here nor there to me). I always keep my eye out for them come July and August, since they are such a great treat.
The other wondrous cuke I lust after are Lemon Cucumbers. As a child, going to the Santa Barbara farmers market in late summer with my mom always meant abundant lemon cukes. They are small yellowish orbs that look like lemons, but taste of cool summer cucumber. Their skin is a little thicker and tougher, and can sometimes be prone to bitterness, but when they are perfect, they are well worth it.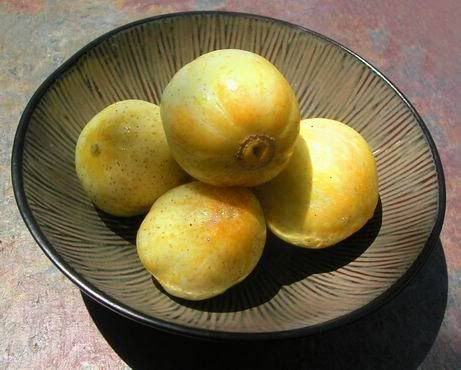 Of course both varieties of cucumber can be prepared in as many dishes as you can dream up, but this traditional Mexican snack is my favorite.