Monday ~ Deep purple-red juices seeped through my sandwich staining everything maroon…like the tears of my heart.
Our beloved Briana (my daughter-in-law) died in the wee morning hours, her lungs and bones ravaged by an invisible enemy ~ metastatic breast cancer. I was finishing up the beets Pam, my friend of three decades, had prepared so lovingly for Bri last week.
Bri was an enthused beets fan. Runs in her mother's family. Her Uncle Walt relishes them, too. Bri would bring home Bull's Blood red beets crowned with greens, golden ones, and striped heirlooms from the farmers market. But she hadn't been able to get to the farmers market for several months. She would recruit my hubby Bill, her grocery-shopping buddy, and Pam to go for her.
Bri, confined to the small world of her memory foam padded recliner, would check with Bill every Wednesday and Saturday morning to see if he was going to the farmers market today. She would ask what fresh produce we had in the kitchen and make requests for her favorite seasonal fruits and veggies.
Still a cook at heart, though she couldn't even stand on her own or get downstairs anymore, Bri would tell us what she was in the mood to eat when meal times circled round.
Her appetite was miniscule. It was a great gastronomic triumph if she could eat a whole cup of fruit or yogurt or rice and veggies or avocado and cottage cheese. More often it was a bite, here and there, or a nibble of this and that….and half a day later, the piece of toast or handful of peanuts might be finished.
Bri had always had a soft roundness to her body, making her a huggable, cuddly armful. But once the breast cancer returned, weight melted off at an alarming rate….more than 50 pounds in less than 8 months…until she became slender and delicate like her beautiful hands and feet.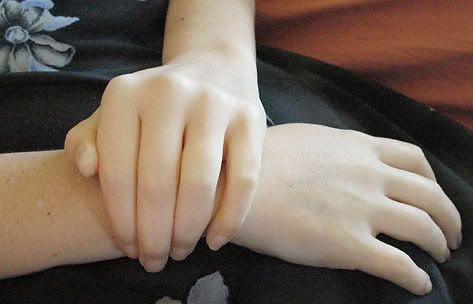 In the last few days of her life, Bri only wanted to eat food "made with love." She didn't realize this 'til I pointed it out as I sat feeding her. Friends had been making food for us at least once a week. Like Jane, who brought over a smooth, hearty, bright orange "root soup" Sunday night, after weeks of treating us to vegetable lasagna, roasted veggies, cornbread & chili, and fresh fruit from her espaliered orchard. Shawnee brought tropical treats: young coconuts with their nutritious milk, mangoes, and papayas. And Pam brought simpler fare: steamed basmati rice with lots of butter and a sprinkling of dill, roasted beets last week, and steamed beets this week.
We also had signed up with a weekly food service, Ruthy's Real Meals, to deliver several dinner entrees for three, since Marc (Bri's hubby), Bill and I had no energy or enthusiasm leftover for cooking, each of us drained from months of round-the-clock care giving.
But it was home-cooked foods made lovingly by friends, specifically for her, that Bri intuitively preferred eating now. We know intent infuses our thoughts, actions, affects our relationships, and, apparently, the food we cook as well.
So, as an end-of-life cooking lesson from Ms. Brizy….prepare your edible creations with LOVE, the sweetest seasoning of all. Someone may notice the difference, savoring each bite all the more.
~ Cynthe (Bri's Mom-in-Law)