Two summers ago my husband Marc and I had our first experience of homemade melt-in-your-mouth-amazing broiled eggplant. I was working for a small organic farm in Santa Barbara, CA. The heavy lifting and set up of selling produce at the farmers market was brutal, but I LOVED talking with people, sharing recipes, and best of all…bringing home gorgeous produce.
I decided to try several varieties of medium sized eggplant, but wasn't sure what to do with them. I do know that the eggplant varieties from farm stands and local small farmers are WAY tastier then the bland giant globes that come from the big supermarkets. If it's organic, even better. Now…I think eggplant is unduly maligned as a difficult fruit (and it is a fruit) to prepare. Who could be intimidated by these?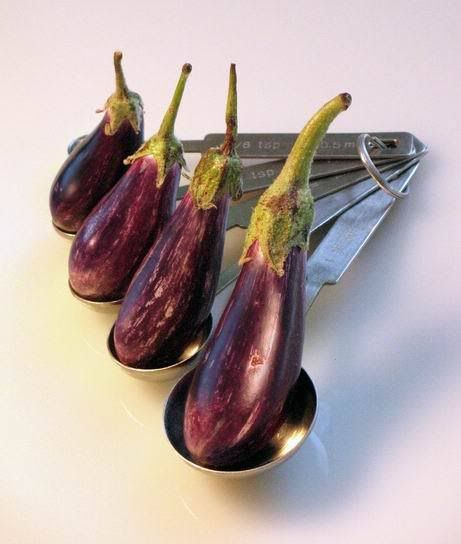 They're called Fairy Tale Eggplant for gosh sakes!
Once you get to know it's quirks, eggplant can open the door to many culinary adventures.
Eggplant Rules:
1. Eggplant does not like to be refrigerated, so if you don't have a cool place to store it at about 50 degrees (your fridge is usually about 40 degrees), prepare it the day you buy it.
2. Eggplant should be firm, without wrinkles or indents and have a lustrous shine.
3. Eggplant soaks up whatever liquid touches it. Bad news if you steam or boil it since it gets soggy, mealy and tasteless. Great news if you use good quality olive oil or a flavorful braising liquid like in Chinese, Thai or Indian cuisine.
So, now that you know how to play nicely with eggplant, I'd like to share my favorite way to prepare it at home. As I said in my Summer Squash post, direct flame really brings out the flavors of summer veggies. Broiling is more convenient for me right now, but of course a grill is great too, if you have one. To prep the eggplant, I like to peel back the stem like the eggplant on the right.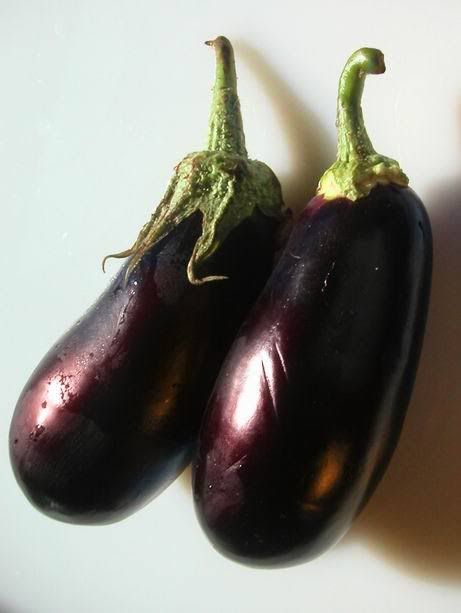 That way, when I cut the stem off, I don't lose the few inches that were hidden. Then, slice it into about half inch rounds. Try to be consistent with the thickness (even if I wasn't in this photo), since you want them to cook at the same rate.
I've found rounds to be the best because it's still encircled with the peel, so it holds it's shape after cooking. If you were just going to roast it for baba ganoush, it wouldn't matter if the eggplant fell apart.
Once you've cut the eggplant, many recipes call for degorging the slices of excess liquid with salt for 20-30 minutes. The main reason for this is to purge bitterness, but I generally don't find that to be necessary. I have prepared it many times both ways, and frankly haven't noticed many of the eggplant that I buy to be bitter. So why make extra work for yourself, I say.
But if you notice that the eggplant you are growing, or buying, is consistently bitter, now you know what to do about it. Back to the recipe…which is really more of a technique.
Set the slices in a single layer on a sheet pan and coat them in olive oil with a pastry brush. Salt them and put them under the broiler for about four or five minutes. Don't forget about them! Things in the broiler can burn if you aren't paying attention.
The eggplant may need another application of olive oil, but if they look good and don't need it, don't bother. If you take them out of the broiler and they look dried out, but not browned yet, brush more oil on. If they are nicely browned and the skin is starting to crisp up, flip them, brush with oil, salt them and put them back under the broiler for another three minutes or so.
The second side doesn't take as long as the first because they are already partially cooked through and the sheet pan is hot. When the second side is browned, pull them out and put a small ball of fresh mozzarella on each one. If you are planning to use them for a party, or, if you are preparing several dishes and those just aren't ready yet, now would be the time to set the eggplant aside.
When you are ready to melt the cheese, put the cheese-topped, cooked eggplant back into the broiler for one to two minutes. Again, watch them carefully. They won't need long for the cheese to melt and develop some golden areas. Just serve them as a delicious dish with a little tomato sauce on the side. The tangy sweetness of the tomato sauce pairs beautifully with the rich creaminess of the eggplant and cheese.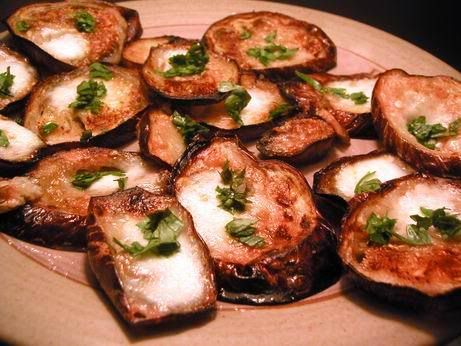 You also could skip the cheese step and layer the eggplant in lasagna, ratatouille or panini (grilled sandwiches) or put it on pizza…you name it! Since discovering this dish, every summer, for a month or two, we can't help but make it a couple times a week. Yum!