I tend to be somewhat of a purist. When I see foods that I love at a mediocre restaurant, or grocery store, I usually just pass them up. Take tomatoes, for instance. Juicy, sweet, heirloom tomatoes are one of the great pleasures in life, so when a waitress brings a salad with a hard, unripe mealy tomato, I don't even touch it. It's just too disappointing. So, someone who didn't know me, would erroneously think I don't like tomatoes. Quite the opposite.
Brownies are another food group I tend to avoid because I like them so much. All too often I've been mislead by the siren song of chocolate in a little square of goodness, only to be utterly turned off by the dry, grainy, hard, straight-out-of-the-box-styrofoam-excuse-for-a-brownie.
So rarely have I experienced The Perfect Brownie, that when I discovered this Best Brownie recipe on allrecipes.com (you can read the hundreds of reviews), I was skeptical. I don't even remember the occasion I first made them for…I've made them countless times.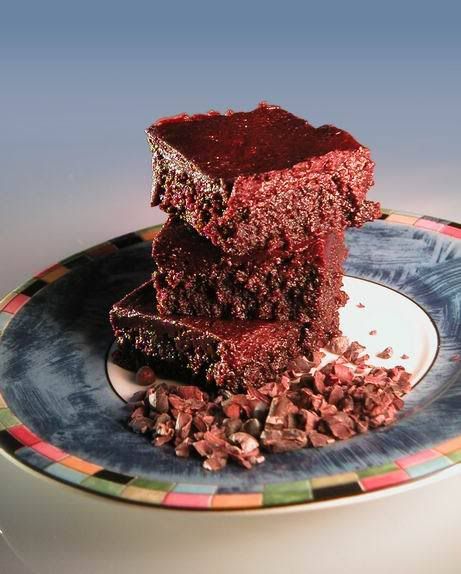 These are rich, fudgey, moist, lick-them off your fingers, brownies. When I made them for a weekend gathering a few years back, a good friend of ours said, (his words, not mine) "These are the best f***ing brownies I've ever had". I often make them for parties and large gatherings, and the brownies are always gone within an hour.
I've been waiting for the right time to post this recipe, since…well…since I started this blog. For the next two weeks, the half of our household that doesn't eat eggs is away, and it seemed the perfect opportunity to indulge. These brownies are so satisfying, all you need is one or two small squares, and a cold glass of milk. This is the first time we've had leftovers the next day, (the two of us couldn't possibly eat a whole pan of brownies in one day) and though the texture is slightly different, they are…almost…better.
I recently tweaked the recipe, and replaced butter with coconut oil. It imparts a rich tropical aroma that you can't quite put your finger on, and becomes even more complex the next day. I highly recommend the coconut oil, but if you don't use it, the equivalent amount of unsalted butter is good too. The whole wheat pastry flour is another of my additions and isn't noticeable, while adding some fiber to the decadence.
I intended to use raw cocoa nibs in the batter, but after measuring them out, plum forgot to add them. Oh well, we suffered through. If you do want to put them in when you make the recipe (and I know you will) about 1/4 cup should do it.
This is such a painless, quick recipe, it's easy to put together as a last minute treat for guests. Also, the frosting is a must. The brownies are so moist, your tongue doesn't know where the brownie ends and the thin layer of frosting begins. The original recipe called for vanilla extract, which you could use, but I felt the chocolate extract kicked the chocolate flavor into high gear and adds a little variety to life. I've made it with almond extract too, and that was awesome. You could do peppermint, or orange, or play with some cinnamon and take it in a Mexican chocolate direction. So many possibilities!
As always, I use as much organic/sustainable/local ingredients as I can, and encourage you to do the same.
Perfect Fudgey Brownies
for the brownies:
1/2 cup coconut oil
1 cup organic evaporated sugar cane juice (it's unbleached granulated sugar that has a blond color and still has the natural minerals and enzymes from the sugar cane. great stuff if you haven't tried it yet and tastes delicious.)
2 eggs
1 teaspoon chocolate extract
1/3 cup unsweetened cocoa powder
1/2 cup whole wheat pastry flour
1/4 teaspoon salt
1/4 teaspoon baking powder
for the frosting:
3 tablespoons butter, softened
3 tablespoons unsweetened cocoa powder
1 tablespoon honey
1 teaspoon chocolate extract
1 cup confectioners' sugar
Preheat oven to 350 degrees F (175 degrees C). Grease and "flour" (with cocoa powder, so you don't have white residue) an 8 inch square pan.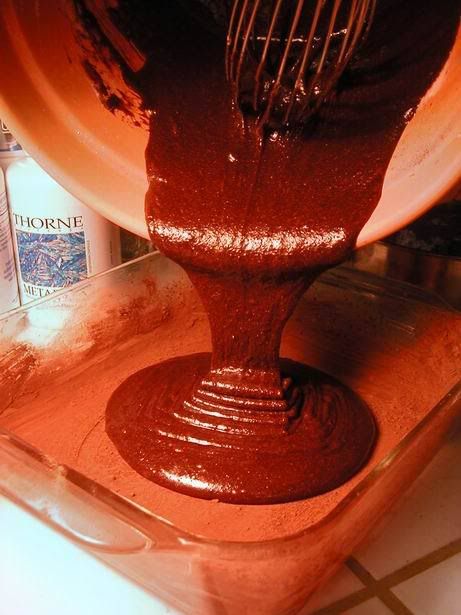 To Make Brownies: In a large saucepan, melt coconut oil. Remove from heat, and stir in sugar, eggs, and chocolate extract. Beat or whisk in cocoa, flour, salt, and baking powder. Spread batter into prepared pan.
Bake in preheated oven for about 25 minutes. It should be baked, and not jiggly, but not overcooked, since you are going to pop it back in the oven after it's frosted.
To Make Frosting: I have included pictures of three stages of the frosting because you are going to think it won't possibly come together. It will, just be patient and use a little elbow grease.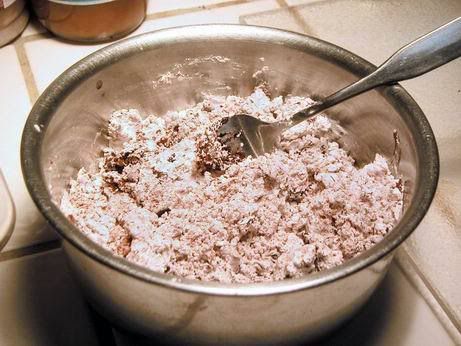 frosting ingredients at the beginning
almost there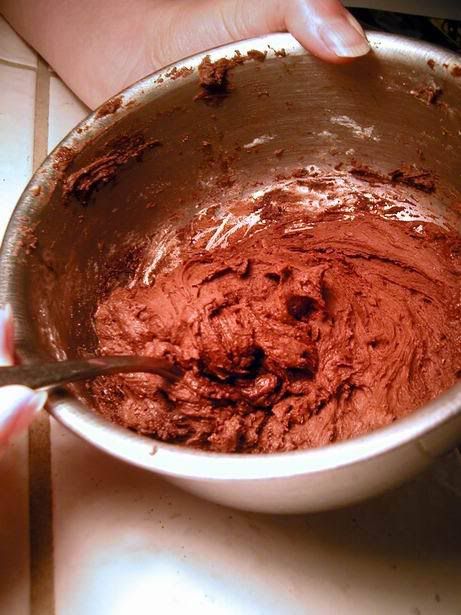 ahhh, frosting
Combine 3 tablespoons butter, 3 tablespoons cocoa, 1 tablespoon honey, 1 teaspoon chocolate extract, and 1 cup confectioners' sugar. Pull the brownies out of the oven, and while they are hot, drop small spoonfuls of frosting all over the brownies and put them back in the oven for about 2 minutes. When you take them out, use a knife or offset spatula to smooth the warm frosting and let the brownies cool for as long as you can stand it, so they'll cut into squares.
The frosting becomes a little crackly as the brownies cool and sit a while, but I didn't find that out until this time since we never waited that long. This recipe can easily be doubled for a 9 x 13 baking dish. They are so rich, 2 inch squares are a good size. Enjoy!