Last week with our Internet access on the fritz, we decided to take a drive up the coast. Sunny and beautiful, it felt like we were playing hooky (it WAS a Tuesday, after all). We intended to stop for dinner where the mouth of the Russian River meets the pounding intensity of the Pacific Ocean: Jenner by the sea. There is a tasty Indian restaurant overlooking the river that has become our tradition on outings like this. Alas, it was closed…for the day? Forever? Not sure, we drove on.
The consensus was Rosso Pizzeria. We'd been there over the summer and since they feature local seasonal ingredients, I was curious how their menu would show off winter's bounty. We ordered a beet salad that was so tangy and sweet, it was just wonderful. So I decided to recreate it at home.
I knew how well beets and oranges played together, but I had no idea how happily basil and goat cheese get along with beets too. What a stellar winter dish. I know, I know, basil isn't a winter herb. I just couldn't resist. The oranges, grapefruit, golden and red beets, and goat cheese are all local to our area. So, I cheated a little with the basil from Mexico. It was organic, and at least Mexico isn't THAT far away (or whatever excuse you tell yourself to get through the day).
Beets are a wonderful (year round in California) sweet vegetable. They are tasty roasted, steamed, sliced and fried into chips, or grated raw into a salad. I loved them pickled as a kid. I still like them pickled, but they are so delicious in their own right, I'd rather buy them fresh from the farmers market.
Beets come in different shapes, sizes, colors and varieties, so I like to experiment with whatever my local farmers are growing at the time. I love the red heirloom variety with the white rings inside, called Chioggia. They have a spectacular color and pattern, but I often find them less sweet and more bitter than purple varieties. Golden beets are gorgeous and delicious and in my experience, are often milder in flavor. The purple ones come big and small, squat and round or long and torpedo shaped.
Beets have such a distinct sweet earthiness, and so many vital minerals and nutrients, I don't know why so many people don't like them. When they are in abundance, I tend to buy beets two or three times a month and just serve them with a dollop of sour cream mixed with orange vinegar, or in a salad like this one.
Don't forget to use the greens as well. Chock full of good stuff, beet greens are very tasty sauted with leeks or onions in a little olive oil. Also, the greens go bad quickly and will liquefy in your fridge before you know it. So, use the greens within a few days of buying them. Since the greens are so perishable, if you buy beets with the vibrant greens, you'll know the beets are fresh and vibrant as well.
As usual, I highly recommend choosing as many local/sustainable/organic ingredients as you can. (I know, the basil wasn't local, but everything else was.)
Beet and Citrus Salad (with Basil)
(Winter, with a hint of summer)
Serves 4

INGREDIENTS:
4 bunches beets (mix and match with red, purple and golden beets for more variety of flavor and color)
2 oranges (navels, cara caras or bloods would be best)
1 grapefruit
Goat Cheese (herby, local, organic is my preference)
Basil leaves, a small handful
Seasoned rice vinegar (already has some sugar and salt in it and is very versatile)

INSTRUCTIONS:
~ Wash and steam beets about 40-60 minutes. The time varies because the beets you buy may be big honking beets the size of softballs (not my preference, since they take so long to cook and can be less tender and sweet), or radish to golf-ball size. While beets are steaming, put together the other ingredients.
The classy way to prepare the oranges and grapefruit is to:
1. Cut off the top (stem end) and bottom (blossom or navel end) to just expose the citrus flesh.
2.Then following the curve of the fruit, cut down the edges to remove the skin and pith, all the way around.
3. Once you have a totally naked fruit, make two slices per segment to cut the segments out between each membrane.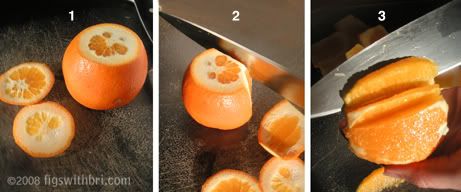 You'll have clean segments without any pith or membrane (like the mandarin oranges that come in the can). Capture the juice from the oranges and grapefruit into your salad bowl, since it will be most of the dressing. After you've cut all the segments out, squeeze any juice left in the center spokes left in your hand.
~ When your beets are fork tender, let them cool. Once cool, rub beets between your fingers to remove (and discard) the skin. It will usually just slip off easily. Any time you handle beets, you will get beet juice on you, so be sure to wear an apron. Some folks recommend using gloves, but I think it's unnecessary, and a waste of resources. Your hands will just be a little stained for a few hours. The color is pretty, and you'll live.
~ Slice the beets into rounds, so you can see the beautiful circle patterns.
~ Put them into your salad bowl.
~ Chiffonade or tear basil into the salad.
~ Toss it all together with a couple tablespoons of the seasoned rice vinegar.
~ Taste it for the right balance of salty and sweet. Adjust as necessary. You may want to add olive oil, but honestly, I didn't feel it needed it.
Once the salad is all put together in the serving bowl, sprinkle chunks of goat cheese on top. If you toss the goat cheese into the salad it will disintegrate into the pink dressing. Yum, a salad everyone can enjoy!