My generous aunt and uncle treated us to dinner at Healdsburg's Barn Diva in the heart of the Sonoma County wine country. Healdsburg has a cute town square and great food. My uncle took my husband and me to Barn Diva a few years ago and it was a very memorable treat, so we were excited at the prospect of going again. I forgot to bring my camera, so we borrowed my cousin's to document the meal.
Barn Diva distinguishes themselves as serving "Modern Country Food" with an emphasis on sustainably sourced local ingredients. The setting is pretty spectacular with a large dining room that somehow makes rustic look elegant, and a beautiful outdoor patio with bar, water fountain, small tables and trees.
They have a themed menu. The themes were Light, Spicy and Comfort. All the items under each of those headings related to the theme.
To share, we ordered Goat Cheese Croquettes, the Cheese and Salami Artisan Platter (Marc and I didn't eat the salami), Chili Relleno, and Caprese Salad layered with Heirloom Tomatoes, Basil, and Buffalo Mozzarella.
First, the tasty parts…The goat cheese croquettes were delicious. I'm sure they included Panko bread crumbs in the batter. Panko is a Japanese style bread crumb and is lighter and coarser with a crispier finish. The croquettes were crisp on the outside and gooey cheesy on the inside, with a small dish of honey for dipping. I loved that. It was such an inspired idea.
Although my uncle informed me that McDonalds, years ago, started using honey as the dipping sauce for McNuggets. Who knew? I certainly didn't. (That will likely be the only time I mention McDonalds on this blog)
I'd say that my favorite dish of the night (though the croquettes were a close second) was the caprese. I could wax poetic about caprese salad all summer long, and, frankly, I probably will. You'll see at least one more caprese post here before heirloom tomatoes are gone. The buffalo mozzarella is richer and creamier than cow's milk and is just heavenly. The caprese came topped with parboiled green beans dressed in fresh pesto that was delicious. If you have stellar ingredients to start with, then this simple dish is spectacular and always one of my favorites.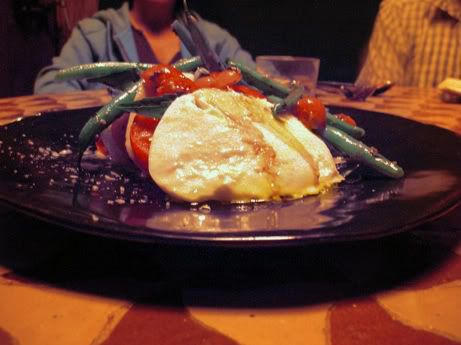 The chili relleno was served with fresh zucchini and green beans, and a light tomato sauce. I believe it was filled with sheep's milk cheese. (Marc informed me I MUST keep a notebook with me to document the details) The dish was tasty and light, but I felt the spicy factor was over done. I like spicy, but it was a rather hot-without-flavor spice instead of complex zingy spice. It just wasn't quite seasoned to my taste, though still a good dish.
Now comes the mixed/bad review. The Artisan Platter. It came with four types of salami, (sorry can't speak to those) and five cheeses. I promise I will have a notebook with me next time, because it's a little lame to say that there was a brie, a blue, a parmesan, and sadly two unnamed cheeses. I'm new to this blog-writing business.
The brie was delicious (of course), but I don't know what kind it was. Same with the parmesan, and I'm not a blue cheese fan, but Marc liked it. One of the unnamed cheeses, an aged one, had a very odd flavor. I thought at first that it was just too stinky for my taste, but none of us liked it. Upon a second bite, I realized that maybe it was rancid. Rancidity happens when fats go bad and though I've never heard of this happening with a cheese, maybe because it was aged, it was stored in the wrong conditions and actually went bad. I'm not sure though.
The really bad part was that I know for sure that the crackers they served with the platter WERE rancid. No doubt. They had almonds and dried cranberries or raisins in them, and you could smell the rancidity six inches from your nose.
I suppose it's an honest mistake because they aren't really tasting the crackers as they go along, the way a chef does with a prepared dish. But, someone very carefully took the time and expertise to choose those exact cheeses and salamis to showcase on the platter. They were ruined by their system of delivery into your mouth…the cracker.
Plus, for the four of us, the bread basket had a total of 4 pieces each of round crackers, small pieces of bread and the rancid crackers. So that meant that with all that cheese and salami, we each had three vessels to park them on, and a third of them were rancid.
I normally am a rather easy going person and understand that mistakes happen, but first of all, it was a $40 dish. There should have been a lot more bread.
Secondly, when we kindly brought it up to the waitress, she said, "But it was a fresh box". She smelled them and I told her, "Really, they are bad". Even if it was "freshly" opened, it doesn't mean it hasn't been sitting on a shelf for two years. Being a waitress at an upscale restaurant, she should have just apologized and immediately brought fresh replacements or even taken it off the bill since they were an integral part. She didn't.
Barring that, she should have brought a free dessert or something at the end to make up for it. I really feel that a sincere apology and even a small gesture, really go a long way to restoring faith. I felt that it was an amateur mistake by a waitress who couldn't have been older than 21.
It made me think that Barn Diva is cutting corners on wait staff by hiring kids, to save money, rather than investing in experienced knowledgeable people. Marc made a good point to counter mine though. He felt that sometimes in the upscale restaurants, the wait staff come off very elitist and snobby. To attract younger or more casual diners, but still serve delicious gourmet food, it can work to have a younger staff. Management just needs to train and educate them really well, so they are inviting and friendly, but also really know their stuff.
So, it was unfortunate that the crackers tainted a rather delicious meal otherwise. Because of the way the waitress handled it, I would be more likely to try a new restaurant next time. Which I know is strange, since other parts of the meal were so delicious. I guess it's just what sticks out most for me.
Barndiva 231 Center Street Healdsburg California 707.431.0100
For Events email info@barndiva.com