My husband's parents don't eat eggs, and my mother-in-law LOVES good ice cream.So, she often experiments with interesting flavors out of Bruce Weinstein's 'The Ultimate Ice Cream Book.' Some of the Philadelphia-style ice cream recipes already don't use eggs, but she's also adapted other recipes to be eggless.
I think her Vanilla Rose Ice Cream is my all time favorite. Rather than make it with rose water, she uses 2 drops of pure Rosa damacena essential oil. It's practically flavorgasmic. It takes 30 roses to create one drop of high grade essential oil, so there are essentially 60 roses in this one quart recipe!!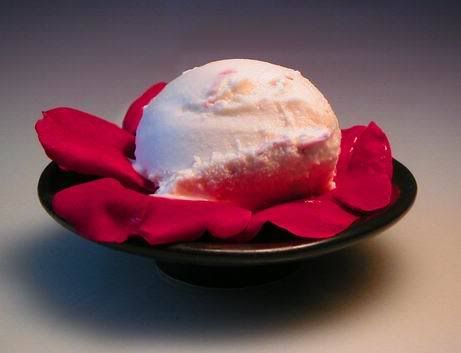 Normally, in the perfume industry, fragrance is extracted using harsh chemical solvents. Using solvents is far cheaper than the steam distillation method, which is how therapeutic essential oils are extracted. A 5ml bottle of Rose from Young Living Essential Oils will run close to $200. But, if you are interested in buying a small 1ml bottle to make this amazing treat, you can purchase it from Simplers Botanicals for less than $30. Rose has the highest frequency of all essential oils and can create an ecstatic feeling of well being. If this rose ice cream doesn't bring a smile to your face, I don't know what will.
Vanilla Rose Ice Cream Recipe

Makes approx. one quart

2 C. organic heavy cream
2 C. organic half and half
¾ cups organic evaporated sugar cane juice
(Unbleached granulated sugar that imparts a blond color and still has the natural minerals and enzymes from the sugar cane. great stuff if you haven't tried it yet and tastes delicious)
2 tsp. vanilla extract2 drops rose (Rosa damacena) essential oil
30 organic rose petals
(in whatever color you like, so long as they are not commercially grown with chemicals)
The night before, put the freezer bowl of your ice cream maker in your freezer, so it's rock solid when you need it.Trim the white bitter bottom off the rose petals and then cut them with kitchen shears into small confetti bits.
Heat the cream and half and half in a large heavy saucepan over med. heat until small bubbles appear around the edge.Don't let the cream and half and half boil.
You can either add the rose petals into the pot before you heat everything, or after.The roses won't impart color, but they may give it more fragrance if you put them in before the heat.
Remove from heat and add sugar, stirring until it dissolves completely.Allow the cream to cool slightly, then stir in the vanilla and rose oil.Cover and refrigerate until cold, or overnight.Freeze in 1 or 2 batches in your ice cream maker, according to the manufacturer's instructions.
When finished, the ice cream will be soft, but ready to eat.For firmer ice cream, transfer to a freezer-safe container and freeze at least two hours.Just remember that there's no junk or stabilizers in this ice cream, so it does tend to melt faster than store bought.
You've never had anything like it. If you are familiar with rose in Indian or Middle Eastern cuisine, if won't be perfumey at all. Just ecstatic. It's great to share at a party since it's so unusual too. Just watch your guests' eyes light up. Enjoy!