I'm a big fan of mushrooms. In ravioli, risotto, on pizza, in mushroom barley soup, in Asian dishes, veggie burgers…you name it. Some of the rehydrated mushrooms don't really do it for me, but the earthy, meatiness of mushrooms is something I thoroughly enjoy. I was delighted to see that at the San Francisco Ferry Plaza Farmers Market there is a vendor with a wide variety of organic mushrooms.
Far West Fungi has a stand out among the tents of the main market, and also a store front inside the ferry building. Like a good blogger, I should have counted how many varieties they had, but it was at least a dozen. Their prices were amazing. Organic shitakes for $7.50 per pound?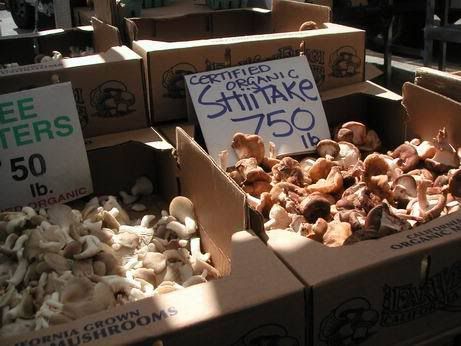 Whole Foods usually has conventional ones for like, twice that. So, not knowing what I was going to do with them, I bought maybe 1/2 to 3/4 of a pound each of a small Spanish variety of King Trumpets (in the front of the dish) and small Tree Oyster mushrooms.
The King Trumpets have a firm meaty texture and the Tree Oysters are more delicate and fall apart more easily. Now…just what to do with them…
When we were at the market, I noticed that my favorite ready-made pizza company, Vicolo, had a stand.
Notice how it's not very busy…I think they should sell pizza by the slice. Customers would be lined up around the block to buy them, they are so good. But, seeing them there, got me thinking on the ride home. What about a vegetarian pizza with these fun fresh mushrooms sautéed as the base and topped with some awesome artisan cheese?
So, we stopped at our fave local health/gourmet market, Oliver's in Cotati. We searched high and low, and finally found the very last package of Vicolo corn meal pizza crust. (we were way to exhausted from the excitement of the Ferry Plaza market to think about making our own crust that night) At the cheese counter, they were sampling two very different cheeses that were so good, we bought a few ounces of each.
One was a spectacular Basque raw sheep's cheese made by the Abbeye de Belloc, a Benedictine monastery in the French Pyrenees. I have fallen in love with sheep cheese. I have yet to taste one that I don't like, but I especially LOVED this one. Buttery, creamy, firm, but not dry and flavorful without being a "stinky" cheese, it is one I would definitely buy again.
The other cheese we tasted (and promptly bought) was Fiscalini bandage wrapped aged cheddar made from whole raw cow's milk. So nutty, with that kind of crystalline texture that great Parmesan has. The cheddar was just begging to be on our pizza.
So, we picked up some shallots too, and were on our way. The result of our excursion was an absolutely delicious vegetarian pizza. Two in fact. I sauted the sliced mushrooms with diced shallots, olive oil, and some of that fresh churned butter from Spring Hill.
I wanted to deglaze all the caramelized good bits at the bottom of the pan, but didn't have any wine. So, I made do with a couple tablespoons of cream. We didn't suffer. Meanwhile, I roasted some skinny Ping Tung Long eggplant (a smallish Chinese variety) and a few cloves of garlic for about twenty minutes.
Then I assembled the pizzas thusly: On both of them, the bottom layer was the sauted mushroom and shallot mixture, then on I topped one of them with slices of sweet pimiento red pepper, and last, but not least, the grated Fiscalini aged raw cheddar.
For the second pizza, I didn't have any more of the sweet red pepper, so I used the roasted eggplant and garlic and finished with the cheddar.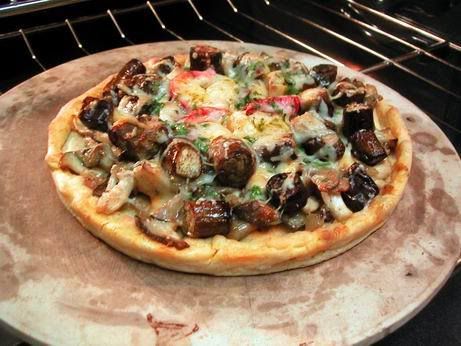 I garnished both pizzas with finely chopped fresh parsley after they came out of the oven. It really was a simple meal chock full of good quality, mostly local and organic ingredients. You really wouldn't miss the meat on these pizzas since the mushrooms have such a full flavor and meaty texture. Yum!