(I couldn't help myself)
What's your favorite figgy food?
I figure I have to post a few figgy articles, so here is one about tasty fig products. Dalmatia Orange Fig Spread is one of the most delicious jams I've ever had.
The honey-sweet of the figs paired with fragrant orange is pure bliss. I have all kinds of wild plans to use this spread: in cakes, thumb print cookies, puff pastry…heck, slathered on anything I can get my hands on. So far, the most I've done with it, is happily pile dollops on a whole wheat English muffin with cream cheese. Seriously…bliss.
I have to say, that I tasted the Dalamatia Fig Spread without the orange and it just wasn't interesting enough for me. It was sweet just to be sweet, without the depth that orange lends. So, if you find it at your local gourmet market, be sure to get the spread with orange in it.
The other fun figgy find I want to mention is Trader Joe's Figments.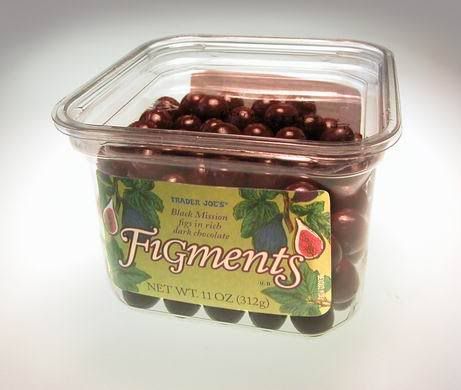 They are like raisinets, but classy. Bits of black mission figs dipped in dark chocolate. It's a tasty treat and a fun way to get some of your RDA of fruit. Either or both of these would be great as part of a cheese platter or other buffet style festivity.
p.s. I'll be incommunicado for about a week, so you won't see me around for a bit. I'll miss you. Will you miss me? I'm sure I'll have lots to report. See you soon!