Whenever one season wanes into the next, I feel mixed about the local produce. On the one hand, grieving the end of those delicious peak ingredients, and on the other, bored with the same palette of standbys. As it gets cooler here, and we move from late summer into autumn, I ran into this problem the other night.
I let all the cold air out of the fridge and freezer waiting for a revelation, and fervently pacing the kitchen, inspecting every cupboard. On a vegetarian or vegan diet, hearty protein-rich meals can be challenging sometimes, (one cannot survive on beans and rice alone).
So when I saw the red lentils, they felt like a good change of pace. Only trouble, we ate Indian dal most of the winter and I just wasn't in the mood. Then I remembered how often my aunt used to make "lentejas", which are a staple of Spanish cuisine. I know the French and Italians use them sometimes too.
So, by adding some potatoes to fill it out, and the ubiquitous French mirepoix – carrots, celery, onions and herbs, a delicious nourishing soup emerged.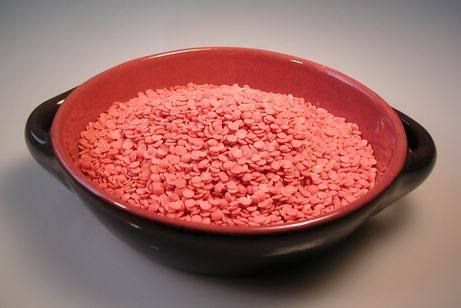 Red lentils, (sometimes identified by the Indian name Masoor dal) are easy to find in the store and cook up in 15 to 20 minutes. They turn fall-apart tender, very quickly and make for a creamy background in this dish. Of course, you can use other lentils, I just love how easy these are to work with. Chopping the veggies and harvesting the herbs from the garden took more time than the lentils took to cook.
Also, I used oregano and parsely in this soup, but you could use any combination of basil, thyme, marjoram, or rosemary as well. Whatever suits you. All ingredients are organic, but you do what feels right to you. As usual, this recipe is a suggestion for you to play with.
"Recipe" for Golden Lentil Soup
1 medium onion, diced
2 celery stalks, diced
1 medium carrot, diced
1 large fresh tomato diced (I suppose you could use a 14 oz. can of tomatoes, but it will be a little different)
3 medium creamy potatoes (I used a handful of quirky fingerlings)
1 1/2 C. red lentils
Approx. 5 C. water depending on your preference and how thirsty the lentils and veggies are.
3 heaping Tbs. chopped fresh oregano and parsely
Salt and pepper to taste
Yogurt for garnish (optional)
For fastest cooking, start boiling water in a kettle, so that when you add it to the soup, it will already be hot and save you 5 or 10 minutes cooking time.
Saute onions, and carrots for about 2 minutes, and then throw in the celery.
Saute for another few minutes until veggies reach some caramelization and tenderness.
Add tomato, potatoes, water, lentils and about 1/2 tsp salt to start. Bring to boil, turn down heat to a simmer and cook about 15 minutes.
When the lentils break down as you stir, they should be done, but, taste for softness of lentils and salt. Turn off the heat and add fresh herbs. This way, they release their flavor into the soup without cooking all their brightness out.
I left it more rustic, but if you prefer, you can puree the soup, but be careful with the hot liquid.
Serve it and add dollops of yogurt, if you like. It's delicious as a vegan dish, without the yogurt, but we have a great local creamery that has European style whole fat yogurt, where a spoonful goes a long way. The tang of the yogurt with the acidity of the tomato work well together and the fresh herbs liven up the party.
It's so simple, it could be one of several dishes in a meal, but it's so hearty, you could eat a large serving and be totally satisfied. Golden lentil soup could be paired with a light pasta dish, or some crusty bread, or a big rustic salad. As the whole meal, this recipe serves about 5, but with other dishes, it could be stretched out to 8 servings.