For a little treat, Marc made my favorite pancakes today. A few years ago we picked up a wonderful multi-cultural vegetarian cookbook called "The Green Way to Healthy Living". It was published in India, but has recipes in English from all over the world. There are several dishes in this book that have become staples of our household. The pancake recipe is spectacular.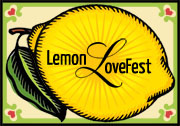 2-14-2010
This is the fourth of our entries for the
2010 Lemon Love Fest
at WineImbiber.com Check out their growing collection of
delish Meyer Lemon recipes
.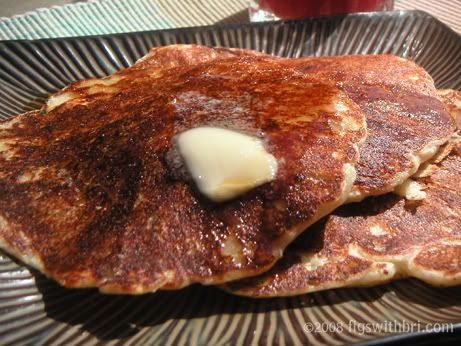 Mmmmm….melted butter and maple syrup combine perfectly with the lemon zest
Rather than using eggs as leavening in the pancakes, the recipe calls for a combination of milk and lemon juice that gets it's lift from the reaction with baking powder. In many Indian spiritual traditions, people eat a "pure veg" diet. Meaning no meat or eggs, but dairy is fine. Marc and I eat eggs, but this recipe is so delicious and fluffy, we always make them this way now.
Lemon zest in the batter is the perfect tangy touch. It says "optional" in the recipe, but I think it's mandatory. We've made the recipe dozens of times but this morning I decided to try something a little different and add a 1/4 cup of rolled oats for some texture. Great hint of chewyness, and that much more goodness.
We have tried out lots of different flours in the recipe, but today we struck gold. I tend to rely heavily on tender whole wheat pastry flour for most of my baking (quick breads, brownies, pancakes) but we didn't have enough. Since I've been making a lot of fresh bread lately, we had hard white bread flour.
We used about half and half, and created the lightest, fluffiest pancakes, with a fantastic slight crispness on the edges. Yum! I definitely recommend that proportion of flours. If you don't have bread flour (or can't find it) using all whole wheat pastry will be fine.
The recipe doesn't call for salt (and we didn't use it), but I suggest that you either put a pinch in, or use salted butter.
I topped my pancakes with some yogurt for extra protein and a drizzle of bonafide real maple syrup. To perfect the scrumptious meal I made some of my delicious fresh squeezed juice. I like to change it up and squeeze a combination of whatever citrus fruits I have on hand. Today I had navel oranges, red grapefruits and blood oranges, but I've also used tangerines, mandarins and valencia oranges.
As always, I urge you to use as many local, sustainable and organic ingredients as possible.
Lemon Zest Pancakes (makes about 2-3 servings)
1/2 C. butter (one stick)
1 Tbs. lemon juice (meyer is my favorite, but use what you have)
2 C. milk
1 C. whole wheat pastry flour
1 C. white bread flour
1/4 C. rolled oats
1 Tbs. baking powder
zest of one lemon

Preheat oven to 200 degrees (so you can keep the cooked pancakes warm).

Measure out milk. Zest lemon into a large mixing bowl. Cut lemon in half and squeeze 1 Tbs. juice into milk and stir, then set aside for about 5 minutes. Melt butter. Measure and mix flours, baking powder and oats into the large mixing bowl with lemon zest. Pour melted butter and milk/lemon juice into dry ingredients. Stir, as much as necessary, but don't over do it. The batter should be creamy and loose, but small lumps are okay. If it's too dry or too wet, adjust the batter by adding milk or flour, one tablespoon at a time.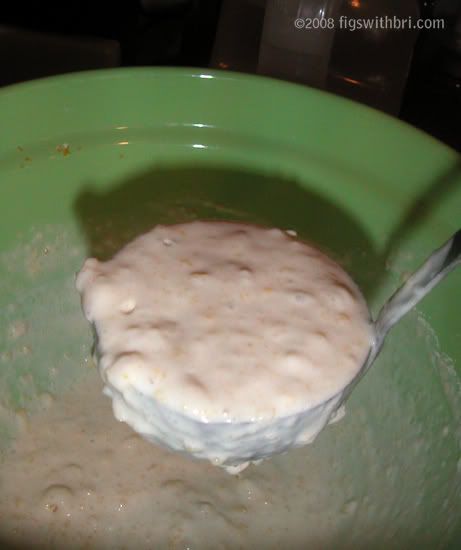 Good consistency batter…not to wet, not to dry, not over mixed
Heat griddle or large pan on medium high heat with a pat of butter. When butter is melted and a little foamy, add a ladelful (or whatever size you like) of batter for each pancake.
Don't walk away. Really. Pancakes require monitoring. If the heat is too high, the outsides burn before the middle is cooked. Too low, and by the time they are fully cooked, your pancakes are dry cardboard.
Ready to be flipped
When the edges of the pancake are set and lose the gloss (looking a little dry), and the bubbles next to the edge pop to create little holes and don't fill in, it's time to flip the pancake. Cook another miniute or so. You can peek under to see if the bottom is browning. The pancake is done, and can go on a plate in the oven to keep warm. The first one or two are never as good as the later pancakes. They just don't cook quite right and tend to be a little doughy. Repeat with the rest of the batter and serve with yogurt or butter, syurp and fruit.
I can't imagine a better breakfast (look what a gorgeous color the blood oranges made the juice)
Fresh Citrus Juice
3 navel oranges
2 grapefruits
3 blood oranges
Wash the skins first to remove anything funky, and juice them all into a pitcher. Yum! My favorite fresh juice.