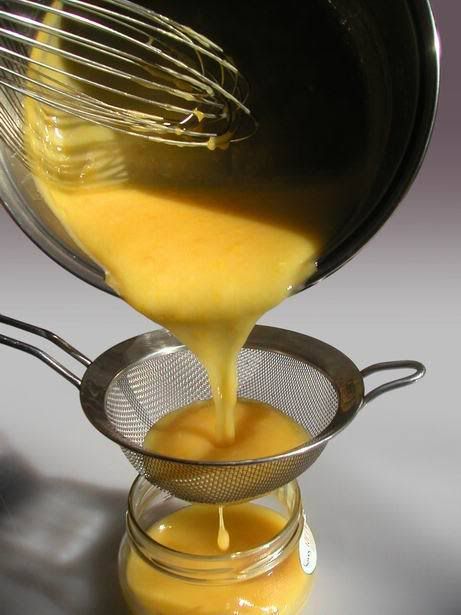 Mmmm fresh homemade lemon curd
As a kid, my favorite dessert that my grandmother (we cousins all called her Doe) made was lemon bars. She was an atrocious cook, but a pretty good baker. So, whenever I eat lemon bars, or lemon curd, it reminds me of her.
Unfortunately I never got her recipe, never saw her make them, and it seems no one else in the family did either. So, you can imagine I was thrilled, when I saw Gale Gand do an episode on her Food Network show  'Sweet Dreams'  on a super simple lemon curd recipe. Often curds require a ton of egg yolks and seem much more complicated, but this recipe couldn't be simpler, and it always comes out delicious. This recipe is based on hers, but Meyer lemons are really the key. I've been making it for years, once with limes and it was good, but the Meyer lemons are ecstasy.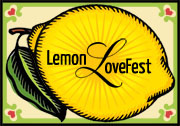 2-14-2010
This is the third of our entries for the
2010 Lemon Love Fest
at WineImbiber.com Check out their growing collection of
delish Meyer Lemon recipes
.
There is much lore and rumor about what Meyer lemons actually are, but I know for sure they are a hybrid of some kind of lemon, and another citrus (some say orange, others say mandarin). Meyers have a deep yellow-orange color, and thin fragrant skin. They tend to be less acidic than standard (Eureka) lemons, so you can get the rich lemon flavor with a less intense tartness. I find them to be so versatile for sweet or savory dishes, that whenever I have a choice of Eureka or Meyer lemons, I always choose Meyers.
Or maybe they are grinning mischievous tree sprites. Even after being squished in a juicer this one retains it's cheeky character.
The skin is so delicious and chock full of essential oils, I use the zest where ever I can. Since this recipe calls for zest, I strongly recommend organic or unsprayed lemons. You don't want those chemicals in your food, do you? This is so quick and simple to make, I often throw a batch or two together at the holidays (when citrus is at it's peak) for foodie gifts.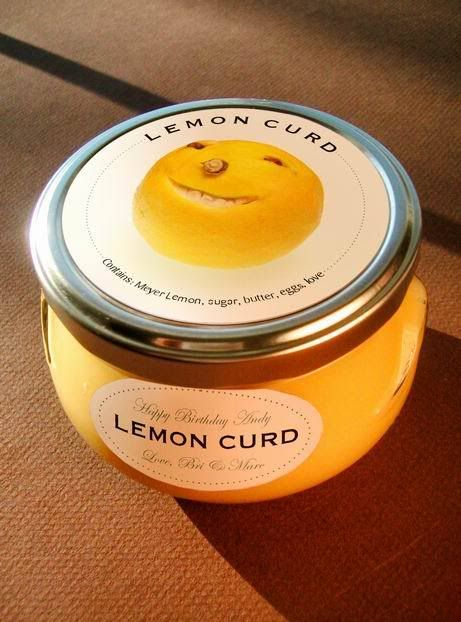 We cleaned out this jar that had preserved quince, and the ever talented Marc, cut the lemon to make a face with cloves for eyes, photographed it and made labels, for a more presentable gift.
Reuse some pretty jam jars, throw a ribbon on it, and you've got yourself the perfect hostess gift. The entire process takes less than 20 minutes from zesting to pouring. It's heavenly by the spoonful, but if you have more self control than that, spread it between layers of cooked puff pastry, or make a lemon tart, or just spread it on your morning toast. With fresh whipped cream folded in, all manner of decadence could be achieved. I like a clear strong lemon flavor in my lemon desserts, so this recipe reflects that. Feel free to adjust it to your taste. As usual, please use as many sustainable/local/seasonal/organic ingredients as you can.
Lemony Meyer Lemon Curd

3 Meyer lemons
3/4 C. organic evaporated sugar cane juice (an unbleached granulated sugar with a blond color that still has the natural minerals and enzymes from the sugar cane. Great stuff if you haven't tried it yet. Tastes delicious.)
2 large eggs
1 stick unsalted butter (1/2 C.), cut into 6 pieces
Finely grate zest from lemons, and squeeze enough juice for 1/2 cup (my meyer lemons were so juicy, I only needed 2 1/2 lemons to get 1/2 cup juice.
Whisk juice, zest, sugar and eggs in double boiler (can just set a bowl over saucepan with an inch or two of simmering water in it). Once the eggs are well incorporated, and the sugar has dissolved, add butter, and continue whisking over the simmering water about 10 minutes. It will become opaque, lighter in color and thickened quite a bit, but still pourable. Since this recipe calls for both the white and yolk of the egg, there will be little bits of cooked white. While it's still hot, carefully pour the lemon curd through a fine strainer/sieve. This step is also why you don't need to be too careful about the lemon seeds. You'll have about 16 oz. of silky decadent curd that fits neatly into two 8 oz. jars. One for you, and one for a friend.
(Edit) I forgot to mention this earlier, Marc's grinning lemon label was inspired by "Play with Your Food" by Joost Elffers