~ This brightly flavored, chunky marmalade is satisfying to eat.
*Out-of-Stock*
We'll make more next Spring (2014)
Meyer Lemon Marmalade
8oz~$12 ea, 4oz~$7ea
Dear FWB Readers ~ I haven't fallen off the face of the earth. NO posts for two months…terrible, TERRIBLE for a food blogger! We've been crazy-busy with our graphics-web design business for three months solid. A good problem in the current economy.
And I've been writing posts for my other blogs: www.EssentialOilsForHealing.com and www.SpringMoonFineArtPrints.com Still…..please accept my sincere apologies for neglecting you. I have been cooking some blog-worthy items of late, spurred on by Meyer Lemons being in season. So, you'll see a series of yummy lemony posts in the next few weeks.
The other question I have is "Why did I wait YEARS to make Meyer Lemon Marmalade?" The recipe couldn't be simpler….or easier. Just three ingredients: Meyer Lemons (cut into smallish segments), water, sugar in equal volume.
First tasted Meyer Lemon Marmalade at our Santa Rosa Farmer's market. Can't even remember how long ago now. The 30s-something woman was a new vendor. Her small table displayed an armful of teeny-to-small jars of lovely yellow marmalade. Took a taste…WOW! Bought 3 or 4 of the teeny 2 oz jars to give as gifts….with one to savor.
Of course, it was gone much too fast. I looked for the vendor at the farmers market. And looked for her on-line, and in the Yellow Pages….all to no avail. She had vanished. So…since I'm decently talented at making yummy jams & preserves, decided way back then, I would HAVE to make some myself.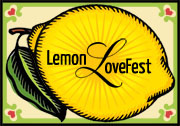 We entered the 2010 Lemon Love Fest at WineImbiber.com
Check out WineImbiber's growing collection of delish Meyer Lemon recipes.
Luck smiled on us, and we WON a delightful prize for Marc (& Bri's) Meyer Lemon Curd ~ a bag of freshly harvested Meyer Lemons from The Lemon Ladies Orchard in Emerald Hill CA.
The lemons arrived three weeks ago. I intended to use them right away, but we had a crazy busy March and time escaped….
I began to get worried about our golden prizes spoiling in front of our eyes. Decided this past weekend was my last chance. Washed the lemons and borrowed my youngest son, Dave's 'perfect' jam-making pot on Friday. Recruited my hubby to do the grocery shopping today ~ needed plenty of organic sugar for the marmalade. And harvested more lemons from our two little potted Meyer Lemon trees, so I'd have plenty to work with.
Meyer Lemon Inspirations 2010 ~ Recipe #1
The Meyer Lemon Marmalade recipe I used is from SimplyRecipes™ As Elise explains, the recipe ingredients couldn't be simpler:
2.5 lbs Meyer Lemons
6 cups (organic cane) Sugar
6 cups (filtered) Water
Elise has done such a nice post with great reference photos that I didn't bother attempting to duplicate them.
The whole process, start-to-finish, took about 2.5 hours
Washing, trimming, de-seeding, and chopping the lemons is the most 'labor' intensive part. Having a friend to work with you or to chat with or listening to some good music makes the tedious (…meditatively zen) aspect of the prep, pleasant.
With a wide (not tall), quality brand, 5 quart sauce pan (copper is not essential…stainless steel is just fine), the cooking goes relatively quickly. Plus, I enjoy watching the bubbling 'cauldron' of translucent fruit.
Two other aspects of Elise's recipe I especially appreciate are:
~ It doesn't use added pectin (matching my own jam-making philosophy)
~ Sterilizing of the jam jars is done in a 200F oven for 10-15 minutes while the jar lids, piled into a metal or ceramic bowl, are soaked in boiling water just before filling them with the hot cooked jam. These sterilizing techniques are SO much easier than doing the whole clumsy, deep water bath, boiling routine!!
I'm a collector
Collect all sorts of stuff, not so much deliberately, more out of enthusiasm, appreciation, or because I think something will be…you know…useful. Our house & my garden reflect this overly enthused tendency (sigh). Some of what I have way more of than I will ever use….are jam jars!
I get bored with the conventional. Conventional, whatever. So, when I come across a glass jar with an appealing shape and a reusable lid, I squirrel it away in my jam jar cupboard that has overflowed into several small boxes in our garage.
The thing about reusing jars is that their lids must be in perfect condition: CLEAN – NO NICKS in the linings or sealing disks – and must FIT tightly for a good seal.
Homemade jam makes a special gift
The week after I made this Meyer Lemon Marmalade, I gifted three jars: one to a new client, one to our Tai Chi teacher, and one to my in-laws as an Easter present. Another will go to a food savoring friend and the rest we'll keep to enjoy.
Food blogs are all about presentation, which I'm slowly getting better at. A decade ago ~ before food blogs existed ~ I had an idea for making handcrafted gourmet jams, preserves, and condiments prompted by my disinterest in the "ordinary," rather boring, grocery store selections. Even many specialty brand jams, marmalades, and preserves are rather innocuous….too sweet, not dense enough with fruit, with ingredients that should never be in really good jams, on top of unimaginative fruit combinations.
Along with making a few DELICIOUS jams & preserves, I began to design custom labels using public domain engravings of garden fruits & vegetables. Ran into the issue of a limited selection of images (ie. NO lemons)! Returning to my label designs for this batch of lemon marmalade, realized with my improved Photoshop skills & a digital etching technique I've developed for my fine art prints, I could make fruit etchings from my OWN garden photography. So, that's yet another creative project to tackle…reworking all the labels developing new designs for them.
A few weeks later
We're enjoying this brightly flavored marmalade on crackers & toast, swirled into Greek yogurt, or even sneaking a surreptitious spoonful now and again! The Meyer Lemon Marmalade might be wonderful as a dessert tart glaze or on other foods complimented by citrus and bitter-sweet contrasts.