Recently I spent the weekend in Asheville, North Carolina. What a trip. I've never been to the South before, and though I don't think it qualifies as the deep south, it was south. Flying in and out of Charlotte, we encountered many people with thick southern accents, but Asheville was quite a bit like northern California.
Before the weekend really got started, we went to a fun vegetarian restaurant called The Laughing Seed Cafe in downtown Asheville. Such a great name! On the front of their menu was a little story: "On the Indonesian island of Bouton, there is the legend of the laughing seed. This plant was sacred to the people of the Spice Islands for centuries. When it's seeds were consumed, the people were intoxicated with laughter, and able to communicate with the gods. It is said that this wondrous food satisfied the appetite and created a sense of fullness and well-being which lasted for many days."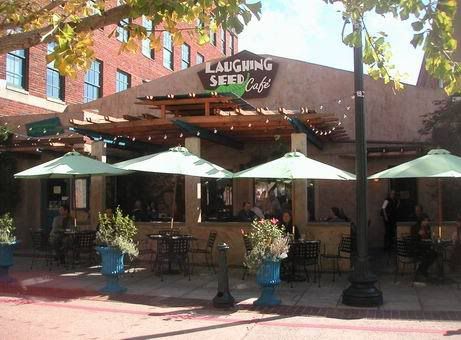 It was such a sweet story and intention for a restaurant, I knew I was with kindred spirits. I ordered a hempnut and bulghur wheat burger, with veggies and cheese and delicious jalapeno, caramelized onion fries.
The burger was tasty, but leaned a little too far into hippy-chow, but the fries were just the right spiciness and well…fried. We also got the pakoras of the day (little Indian fried vegetable dumplings) with some sweet tangy chutney. The pakoras were perfectly seasoned, crispy balls of veggie-doughy goodness.
we had already devoured two before I remembered to break out the camera
The night before our flight out of Charlotte, the only "restaurant" nearby that was open was a Waffle House. It was a little grungy, but I was up for the adventure. I finally decided on a breakfast plate of grits, raisin toast and scrambled eggs covered in American cheese.
I believe this qualifies as the antithesis of hippy-chow. Also, it doesn't look very appetizing, but it looks exactly how it did in real life. I hate to admit it, but it was a tasty four dollar meal. When I asked the waitress if she could break a bigger bill, she said that they had been robbed twice the week before, so they weren't keeping much money in the register. Hmm…if the American cheese wasn't enough reason to make me want to run, the menacing threat of being robbed any second, sure was. Needless to say, we quickly paid and got outta there.
The weekend was a gathering of friends and deepening of a sisterhood around the fire. One woman opened her home to us, and another cooked every meal. I got to try real southern cornbread for the first time. It was lovingly baked with pecans and fresh pears. YUM! I've had cornbread before, but not like that. Oh! And I also had homemade sweet potato pie for the first time as well! What a treat that was. I have yams in the cupboard and a ready-made crust in the freezer just begging to be reborn as pie. I love pumpkin pie, but had never had to occasion to try sweet potato pie. The weekend was truly a culinary adventure, as well as a profound experience with dear friends.
Well, there you have a quick synopsis of my food adventures in North Carolina. The people were friendly and I'd definitely go back, but I think I'll avoid the Waffle House next time.