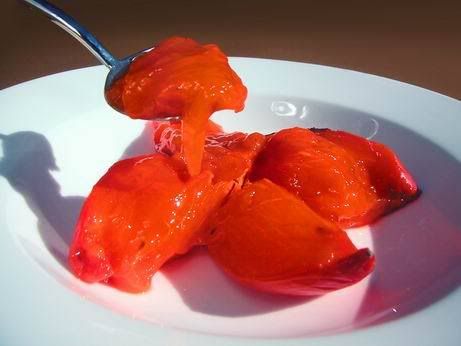 Hachiya persimmon in all it's blissful luscious eat-with-a-spoon ripeness.
I inherited my great love of hachiya persimmons from my dad. I have many fond memories of slurping their fall-apart ripe ambrosia with him as a kid. I know I talk often about my favorite things, and you must say to yourself, is EVERYthing her FAVORITE thing?
The answer is no…but there are a lot of them. Marc and I have a pet peeve about pickyness, (seriously we've had many a conversation about it, and smugly congratulate ourselves for our lack of it) and Marc recently came up with a new theory. We eat a varied diet, rich with many flavors, colors, textures, and aromas. So, if you are super picky, you must not be enjoying life as much because you have that many fewer things to enjoy. What a miserable existence! So, in the interest of promoting yet another of my favorite things, I'd like to give a little lesson on persimmons, which are loading local trees these days.
First of all, their botanical name is Diospyros, meaning "food for the gods". Seriously, need I say more? I guess I will since I know more people are coming around to them, and I thought we'd get to know them better. They are native to China, and eventually made their way through Asia, and to the Western US in the 1800s. The three varieties I'm most familiar with are Hachiya, Fuyu and Amagaki.
Fuyu front right, Amagaki front left, and three stages of ripe Hachiyas in the back.
Hachiyas are far and away my favorite, for their sweet jam-consistency pulp that slips over your tongue like nothing I've ever encountered. Once they start to ripen, they are quite delicate, and don't transport well. So, you'll usually have to buy them rather rock hard, (unless you are lucky enough to make friends with a persimmon tree owner). I struck gold when I lived in LA and frequented the Wednesday Santa Monica farmers market. This time every year a woman sells small boxes of 6 or 8 lusciously ready-to-eat persimmons and usually sells out in the first hour or two. What a treat! I would devour 2 or 3 of those deep orange acorn-shaped fruit the first day. Now, when I go to the farmers market in Santa Rosa, I just always ask the grower if he has any soft ones he can sell me.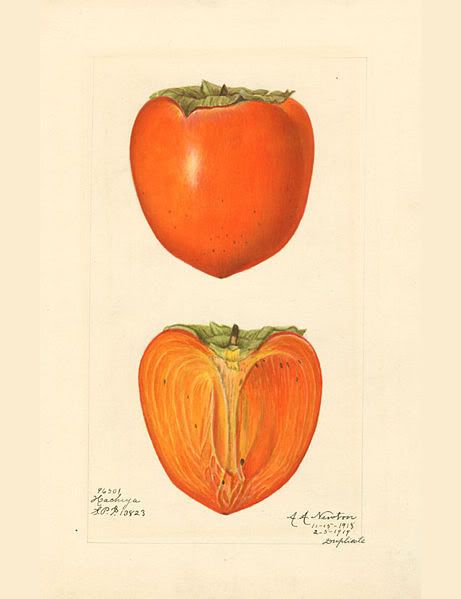 I saw this watercolor from 1919 on Wikipedia, and thought it was just such a cool representation of a Hachiya.
Hachiyas are an "astringent" variety of persimmon, meaning you have to wait until it's incredibly soft and translucent to eat it. Seriously, if you think it's ripe, wait another two days. The experience of eating an unripe hachiya persimmon is so unpleasant, it is the sheer antithesis of the bliss of a ripe one. And that's saying a lot. Honestly, I wish I had words to describe the ass-puckeringly awful "astringent" experience on your tongue, but I don't. So, really, wait for it to ripen. It's worth it.
Three stages of persimmon ripeness. Far right, rock hard, opaque orange. Middle, translucent deeper orange. Far left, fall apart, ugly-ripe.
The other ubiquitous persimmon (although inferior, in my opinion), is the fuyu. Fuyus are short and squat, sort of pumpkin-shaped. They are a non-astringent variety, so you eat them at about the ripeness of a pear…not rock hard, but not soft either. They are tasty sliced into a fruit salad with pomegranate seeds and apple, with a honey lemon dressing. I just so strongly associate persimmons with hachiyas, that I sometimes get disappointed by fuyus. I know it's illogical, so I guess I just have to get over it, and think of them as another fruit entirely.
The newest variety of persimmon I've encountered, is a recent hybrid called amagaki. Twin Peaks farm near Sacramento, CA spent 40 years developing this exotic light orange fruit. It's as if the star quarterback was studded out to the head cheerleader and they had a love child. It's another non-astringent variety, and is eaten crisp to slightly soft. Quite delicious in it's own right, but, like I said, the hachiya is unparalleled in my mind. But, if you can get your hands on an amagaki, they really are a treat, and quite unusual.
This concludes our little lesson on my favorite autumn fruit. Phew…it's a good thing cherry season is early summer, figs are in season in late summer, winter is all about citrus, and cherimoyas are a spring fruit, otherwise I'd have to choose. Ah, the wisdom of nature.