Do you ever have a craving for something that goes unsatiated for literally months? It happens to me sometimes. Because it isn't the right season, or it's a bit involved to make and I have to do some mustering, or the restaurant that serves the perfect incarnation of the dish is either out of business (and I need to perfect a new take on it) or far away. Honestly, I don't mind because it teaches me a bit of detachment. "Zen and the art of waiting for the perfect dish". And…I'm that much more pleased once I actually get to savor it. As the saying goes, "Hunger is the best seasoning."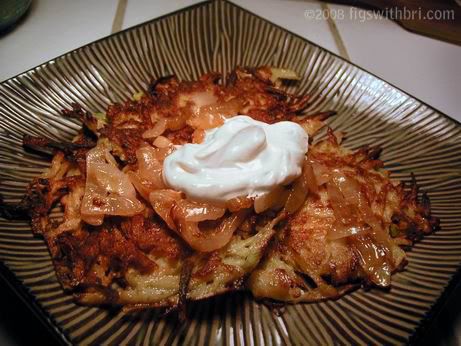 So, I'd had a hankering for potato pancakes for…I dunno…10 months or so. When we finally made them last night, they were heavenly. Needed salt, (because of the whole temporary salt-fast) but still nirvana. It is quite tasty without salt, so potato pancakes are a regular tried and true, salt-free dish. When we make them in the late summer/early fall, when the summer squash are still abundant and the first potatoes are coming in at the farmers market, I like to use some zucchini in place of about 1/3 of the grated potato. Yum!
For these, zucchini isn't in season right now, so they are all potato with some added chopped green onion and garlic. Quite flavorful. We were peckish after a hike, so I kept thinking I was going to make a salad or something to have with them, but…never got to it. Totally indulgent, I know. A dinner consisting totally of potato pancakes. But enjoyed to the fullest.
We served them topped with caramelized onions and sour cream with a little orange vinegar in it. The sweet-tart flavor of the orange vinegar with the sour cream plays nicely off the heaviness of the caramelized onion and pan-fried potato pancakes. I thought I'd share the "recipe" since it was such a treat and I so anticipated eating them.
As usual, I suggest you find as many ingredients as you can, locally/sustainably/organically as possible. With the little we know about genetically modified/engineered organisms (GMO), and the prevalence of genetically modified potatoes and the toxic chemicals used on conventional potatoes, I recommend you find a local, reputable grower in your area to buy yours from. Plus, you might discover some delightful varieties (Russian Banana Fingerlings, Rose Finn Apple Fingerlings, German Butterballs, Huckleberries, etc.)
Potato Pancakes (serves 4, as part of a meal. serves 2 if it IS the meal)

4 medium potatoes, grated (I prefer Yukon Golds for their depth of flavor)
4 eggs
1/4-1/2 C. flour for binding (I used whole wheat pastry flour since I always have it on hand and it's tender while being whole grain)
1/2 bunch of green onions, chopped
5-7 garlic cloves, grated or minced
oil – safflower/sunflower/peanut – some good quality oil for shallow, pan-frying
1 or 2 onions, sliced in half moons and cooked in olive oil until translucent and caramelized (about 20 minutes)
Preheat oven to 200 degrees so you can keep the finished potato pancakes warm. Line a plate with paper towel and set aside.

You can use a box grater, but if you have a food processor with a grater blade, this dish will go much faster, with less effort. Put the grated potato in a kitchen towel (like in the photo) and twist it to wring out all the excess liquid. Some potatoes have more water than others, but if the consistency is too wet, all the ingredients won't bind well. We squeezed out about 1/2 a cup or so. Discard the liquid (unless you can think of a brilliant use for it).
Mix in the eggs, and some of the flour, adding more if the consistency is too wet and won't hold together. Once the consistency is right, add the chopped green onions and minced or grated garlic. Now would be the time to season the mixture with salt (if you are using it) and pepper. Go light on the seasoning, and you can taste one of the first pancakes to see if you need to add more.
We use a non-stick pan and about one tablespoon of oil per batch of potato pancakes in the pan. You'll have to see what's right in your pan, but you shouldn't need more than just a thin coating of oil to help brown (rather than burn) the pancakes. Heat the pan on about medium-high, and when it's hot, spoon two to three tablespoons of grated potato mixture into the pan for each pancake. We were able to fit three at a time in our 12 inch pan.
Depending on the heat of the pan, each side takes about two to three minutes. Make sure you add oil before each batch so the pancakes get nice and golden. If they don't have enough oil, the pieces touching the pan burn before the inside finishes cooking. Put cooked potato pancakes on the paper towel lined plate (to catch some of the oil), and into the warm oven until you are ready to eat. I love them topped with caramelized onions and sour cream, but they are also tasty with chopped chives and a sprinkling of smoked paprika. Yum!