All caramelized, roasted cauliflower and garlic make a very tasty side dish
Probably for good reason, cauliflower has been maligned. If you steam or boil it (especially after it's been frozen) cauliflower florets become waterlogged and blah. Remember those tiny colored dinosaur sponges that came in a dissolving capsule when we were kids? Like that, only just as tasty and without all the fun. No wonder people smother cauliflower in cement truck loads of cheese sauce. Wood chips would taste good swimming in cheese.
Now I say, there is an (absurdly easy) alternative! And cauliflower can regain some dignity for being sweet and tasty in it's own right, as well as good for you. A year or two ago, an issue of Fine Cooking magazine had a whole spread about roasting veggies. All kinds of veggies from all seasons were included, and when I discovered a head of cauliflower in the fridge, I was game to try it out. I knew from past experiences with winter squash, eggplant and zucchini, that (like cheese sauce) the technique of roasting elevates many a humdrum veg to stardom.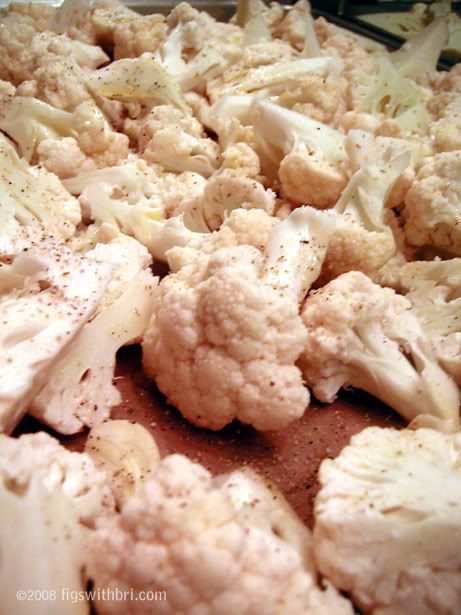 Cut seasoned cauliflower and garlic begging to be roasted
That first time I roasted cauliflower, I threw in a few cloves of whole peeled garlic. After tasting the caramelized aromatic cauliflower and garlic together, Marc and I decided this was the end all, be all preparation method for cauliflower. It really becomes a different vegetable altogether. I've served it for family, for retreats…even people who say they don't like cauliflower have been shown the light. Seriously, I feel almost evangelical about this dish.
I tend to love veggies in simple unadulterated forms (and don't always have the time or energy to take them a step further), so I serve this dish as is. Out of the oven and onto the plate. But, you could use it as a basic technique for cauliflower soup, in a roasted vegetable and grain salad, in a roasted veggies sandwich, or pureed as part of a sauce (over pasta maybe?). The possibilities are endless…and now I'm hungry. Plus, with this technique, you CAN add cheese if you like, but you don't HAVE to, since it's a delightful vegan dish on it's own.
I find it's so popular, that if you use a good sized cauliflower (a pound or two) you need to figure on 1/3 to 1/2 a cauliflower per person. I made it a few times for four people with just one cauliflower, and we devoured it, left wanting more. Perfect on a cold winter evening.
As always, I suggest local/organic/sustainable ingredients.
Roasted Cauliflower and Garlic

1/3 to 1/2 large cauliflower per person
garlic cloves, left whole, peeled (cut in half if really large, as much as you like. i use about 1/2 a head for four people)
olive oil
salt and pepper

Preheat oven to 400 degrees.
Cut cauliflower into bite sized florets. Obviously, the smaller you cut them, the faster they roast so keep that in mind with how long it takes to be done.
Spread cut cauliflower florets and prepared garlic on a baking sheet.
Liberally drizzle with olive oil to promote caramelization in the roasting process.
Season with salt and pepper. Mix them up a bit so that everything has a little oil and seasoning.
Pop it into the oven for say, 40 minutes, mixing them on the tray half way through, to really get color on a few sides.
When the cauliflower florets are golden in some parts and a dark in others, and your whole home is filled with the aroma of succulent roasted garlic, they are done and ready to eat or be used in some other savory application. Enjoy!