I always try to squeeze more veggies into the dishes I make. Like pasta and tomato sauce…I often saute mushrooms and red bell peppers to go in the sauce, for a little texture, flavor and more veggie goodness. So, when I make mashed potatoes for Thanksgiving, I like to add a carrot or two for the extra vitamins and minerals, hint of sweetness and fun orange color. Potatoes and dill always go so well together, so I l add the fresh dill to brighten things up a bit.
As for the roasted garlic…do I really need a reason? Okay, fine…roasted garlic smells fabulous while it's roasting, brings more creaminess to the dish (like the butter doesn't already do that), and just makes life more interesting. If I'm not baking anything else, I usually roast the garlic heads whole, in the toaster oven. No need to waste all that energy heating up extra space in the regular oven, when the toaster oven does the job just as well. Just be sure to brush the garlic head with olive oil, or wrap in foil, otherwise the papery garlic skin can burn in the oven.
I know that the conventional way to make mashed potatoes is to peel the potatoes first. I don't. I like the hearty texture, most of the nutrients go to waste when you throw away the peel, and I don't feel it's worth the effort. So, if you are looking for light as air, fluffy mashed potatoes…these aren't it. They are creamy and hearty with tons of interesting bits of carrot, garlic and potato. I also like to use Yukon Golds or fingerling potatoes which are waxier and, I think, have more flavor. If you like lighter, fluffier potatoes, conventional wisdom suggests using russets.
Here is my recipe for Roasted Garlic Mashed potatoes with Carrot Flecks and Dill (as usual, please use as many organic/local/sustainable ingredients as you can):
INGREDIENTS:
2 heads of garlic (rubbed with olive oil and roasted at 350ºF until soft, about 40 minutes)
1 C. chopped carrot (about 2 med. carrots)
6 C. chopped potatoes (about 2-3 pounds)
1/2 C. buttermilk
1/2 stick of butter (4 Tbs.)
2 Tbs. fresh chopped dill
Tons of salt and pepper (to taste)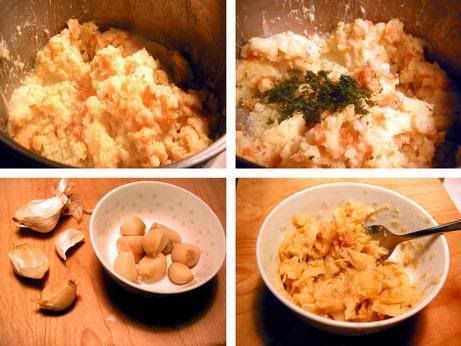 top left: mashed potatoes and carrots, top right: with dairy and dill, bottom left: whole roasted garlic cloves, bottom right: two heads worth of mashed roasted garlic cloves before they go into the mashed potatoes.
INSTRUCTIONS:
Take the roasted garlic cloves out of their garlic paper and mash them altogether in a bowl, with a fork. Steam the carrot and potato together, about 15-25 minutes depending on how small you cut them. You can warm the buttermilk, and butter so that it isn't cold going into the potatoes, but if you plan to serve them immediately, they'll still be hot enough if you just add room temp. butter and buttermilk. So, however you do it, mash the buttermilk, butter, dill, mashed roasted garlic, salt and pepper into the potatoes and carrots. Taste for seasoning, adjust if you need to and serve along with your other fabulous holiday dishes.