Our original plan for the evening was to go to a newish restaurant on 4th Street called, I think, Citrus and Spice. But, like some sort of communist freaks, they were closed to observe the Labor Day holiday. This is America! Don't they know they should be making money every second?! On my day off, I expect them to be available to my every indulgent food whim…
So, we ended up at Signature Thai. They are a cut above the ubiquitous California Thai restaurant. Signature Thai is just off the main drag in downtown San Rafael and not particularly noticeable from the outside.
Inside, the decor is calming with Buddha statues, plants and warm colors…nothing garish. There are two choices for seating, which is kinda fun. They have standard tables and chairs in one part of the dining room. But they also have an elevated area that you have to remove your shoes to enter. It seems like a take off on Japanese tatami style seating with sunken wells beneath the tables. As you approach, the table is about knee height. You think you'll have to sit cross legged on the pillow, but your feet dangle under the table.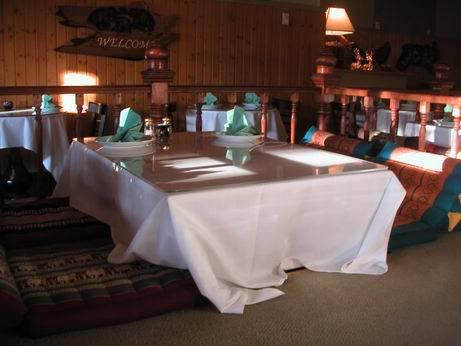 I am a sucker for Thai curries. I must have been Siamese in a past life because I could eat Thai food every week, and yellow curry is one of my staple comfort foods.
They have a varied menu of vegetarian/vegan options with the ability to choose tofu as the "meat" in most dishes. We chose the Panang Curry with tofu this time.
I'm not always impressed with Panang, but theirs was creamy, rich without being too heavy, and a perfect medium spicyness. After some research, it seems that there isn't a standard Panang curry paste recipe, but Signature Thai's was a red curry with peanut sauce, flavored with fragrant Kafir lime leaves and basil. It had lots of good veggies like zucchini, carrots, bell peppers and peas too. I would say it was my favorite dish.
By the way, here is a cool resource for background on Thai curries. Did you know that a common greeting in Southern Thailand literally translates to, "what kind of curry are you eating today?" Cute.
As an appetizer we ordered Summer Rolls which were delicious. I love to make summer rolls, but they are best made when you have help or a lot of time since the veggies require a fair amount of prep. Summer rolls are different from egg rolls because they aren't fried.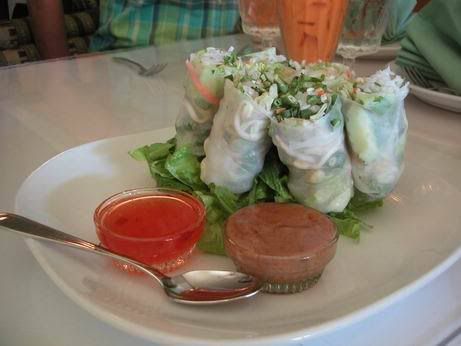 They actually aren't cooked at all. I'll put my own recipe up sometime soon, but you wrap julienne sliced veggies in rice or mung bean sheets that you hydrate in hot water to make pliable. It's very simple, and a light crowd pleaser.
The summer rolls at Signature Thai had green beans, cilantro, mint, mung beans sprouts, rice noodles and carrots. What really makes a summer roll sing though, is the dipping sauce. They offered two sauces with the rolls. A sweet and sour sauce with a little heat from chili flakes, and a sweet spiced peanut sauce. Both were delicious.
The thing about summer rolls is that the wrappers get dried out and a little gelatinous if they hang around too long, and these had just started to dry out. Maybe they made them an hour or two before. Summer rolls make great party food, but you really have to have the veggies all prepped and ready to go, and then roll them in the wrappers right before you serve them.
Another dish we ordered was the Sweet and Sour with tofu. I am such a gourmet health nut in so many ways, but I love junky pink sweet and sour sauce. Marc has a fabulous sweet and sour recipe with meyer lemon zest that I will share later. Signature Thai's was a homemade sauce and I suppose I was thinking too much of Chinese sweet and sour, because I found this to be the most disappointing dish we ordered. I would not go so far as to say it was bad, just not my fave. It had tomatoes, pineapple, cucumber, onions, bell pepper and mushrooms.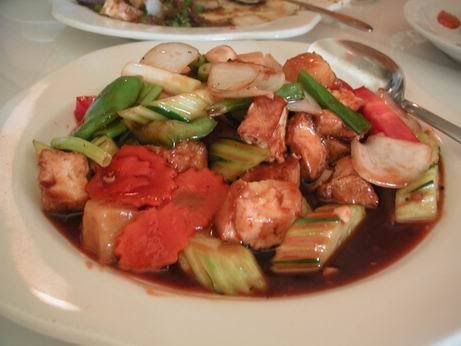 I would also say that really, hot, flaccid cucumber is just wrong. Maybe, somewhere out there, is an exception to the rule, but there is a reason the expression is, "cool as a cucumber". The menu said, "not to sweet, not too sour", and I would just say that it was nondescript and translated to "not too flavorful".
We also ordered Basil Lover with tofu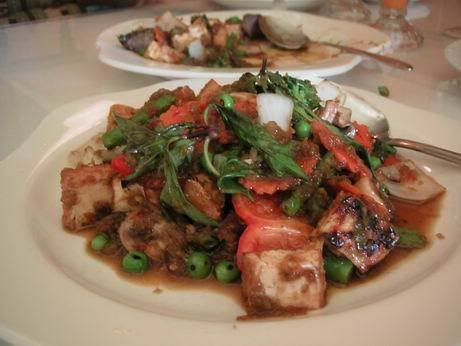 and Eggplant Delight with tofu. Both were quite good, but truly, I so enjoyed the Panang curry, I didn't pay as close attention to these two dishes. I always love eggplant, and there's was cooked and seasoned just right, if a little too oily,
and the basil lover, was…well…basily. Oh yeah, and their Thai iced tea is some of the best I've had. Very sweet, creamy, moderately bitter and herbal from the black tea, and the caffeine didn't keep me up that night. Next time you are in downtown San Rafael, with a hankering for Thai food, check out Signature Thai. On their business cards it's says www.signaturethai.com, but there actually isn't a web site for them. It's really too bad so many restaurants miss out on such an important marketing tool. Signature Thai is located at 810 B St. San Rafael, CA 94901 415-454-6560